Find out what we think when it comes to the size of a Diamond, and how our Website can make choosing your Diamond a little bit easier!
If you're an active member of the Social Media world, then you may recall last month's outrage when a picture was posted with a complaint about a Diamond being too small.
Now known to have been purposefully posted to cause havoc, last month a picture appeared suggesting that size matters, and a 'Small' Diamond on an Engagement ring is not acceptable.
It's safe to say people weren't happy, and responded in an outburst of love for the more 'petite' Diamond, posting some beautiful pictures of their own Engagement rings and why they love them!
We believe that size does not matter, and the thought and love that has gone into choosing your perfect Diamond is much more important!
Here at Quality Diamonds, we work closely with our clients in order to understand their budget, and help them find the best Diamond they can buy!
It's not just the Carat weight that is taken into consideration, the Colour, Cut and Clarity all play important roles in making your Diamond beautiful.
If you're unsure of what you can get for your budget, or are not familiar when it comes to the 4 C's, then make an appointment with one of our Diamond advisors in either our Milton Keynes, London or Birmingham Show rooms. This way we can provide you with all the knowledge and understanding you'll need, to help you make an informed decision on the size and grades you would like your Diamond to be.
If you can't find the time to pop into one of our showrooms, then be sure to read up on our guide to understanding the 4 C's of a Diamond.
Once you feel confident in knowing what you're looking for, then our 'Diamond Score' displayed on our website is a great way to get an overall insight into the Quality of a Diamond. Simply input your ideal ranges into our filtering bar, and browse our selection of Diamonds.

Here you'll find a list of Diamonds that are within your requirements, but also a few recommendations. These include:
Our recommended
The highest Quality
The biggest
The lowest Price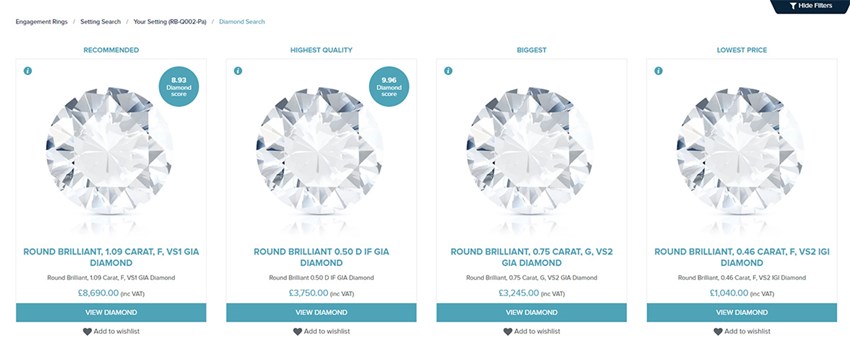 As well as listing specific grades, each Diamond is scored on a scale from 1-10, giving you an overall measure of how well the Diamond performs.
For more information on our Diamond Score, read our Expert Help and Advice Guide.
At the end of the day, it's important to remember that it's okay to want a Diamond that's a little bigger, and we think dropping a few hints beforehand will never go a miss. But knowing that your loved one chose a Diamond they thought was most special, and making their declaration of love by asking you to spend the rest of your life with them? Well we think that's the deal maker.
If you wish to learn more about our Bespoke services, click here.
If you wish to contact us, click here.
Find us on Instagram @QualityDiamonds