Join us on Facebook for our first ever Prize Draw Competition, where you could win a Platinum Diamond ring!
With Christmas around the corner, we thought it was the perfect time to hold a Facebook competition!
We are giving you the chance to win a Platinum Diamond ring! All you have to do is find the post at the top of our Facebook page, and follow the instructions!
Our competition started on Friday of last week, and is running all the way until the 14th of February 2018. Giving you plenty of time to make sure you enter this fantastic Prize Draw!
The Prize.
What's the prize I hear you say? Well it's one of our gorgeous Diamond set bands!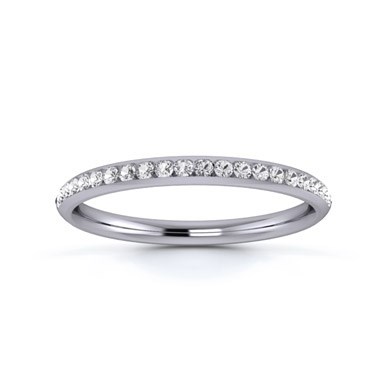 We're giving away this stunning Platinum ring, covered with Round Brilliant Diamonds glistening on half of the band. With Diamonds set in a channel setting, this ring has a total of 0.19 carats.
These Diamonds sparkle at a G-H in colour; and with an S1 clarity, the beauty of these white eye-clean Diamonds really take a stand.
How do I win?
In order to enter, first you need to head over to our Facebook page: www.facebook.com/qualitydiamonds
Then, find the post that's linked to the top of our page, and follow the post instructions!
All you need to do, is like the post, and like our page too, and you will automatically be entered into the Prize Draw! It really is that simple!

There are no hidden terms, only a few requirements to make sure you meet in order to win. Our full terms and conditions can be found on our Website here: Terms and Conditions.
The prize draw will close on the 14th February 2018. The winner will then be contacted in the coming weeks after, and an online announcement will shortly follow.
So, make your way over to our Facebook page now, and make sure you're in with the chance to win this incredible prize!
Good luck to everyone who enters!