Find out how the '4 De Fevereiro' became a gorgeous Emerald cut Necklace, showcasing around the world right now!
In eastern Angola, on the 4th February 2016 in the Lulo Diamond mine, a 404.20 carat rough diamond was recovered. Christened '4 De Fevereiro', the Diamond is the biggest to have ever been discovered in Angola, and the 27th largest rough white Diamond ever found.
Beginning its travels at the GIA in New York, the stone was declared a D in colour and a Type IIA Diamond, a variety that is valued for its marvellous transparency and colour.
After visiting the GIA, the Diamond travelled to the offices of the Julius Klein Group, and here a team of specialists transformed the Diamond into a beautiful polished gem.
After months of analysis and weeks of perfecting the cut, the final 163.41 carat Emerald cut was born.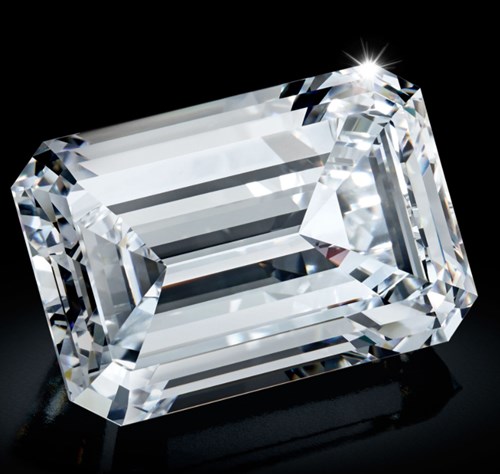 Months later in December of that year, the Diamond then travelled to the Geneva Headquarters of De Grisogono, a swiss luxury Jeweller. The founder Fawaz Gruosi and his team of craftsmen were now faced with the task of transforming this incredible gem into a wearable piece of Jewellery.
It was decided the Diamond was to be set into a necklace, and the team at Grisogono designed a gorgeous piece.
Crafted by hand, and assembled step by step, the stunning necklace came to life.
The necklace was designed in an asymmetrical style, with the 2 sides flowing towards the central Diamond in a riviere design. Draping around the neck, one side of the necklace holds a riviere of baguette cut diamonds, flowing from around 8 carats to 0.5. On the opposing side, the necklace is embellished with vibrant green emeralds that smother the surface, with a suspended display of 66 pear cut emerald drops beside them.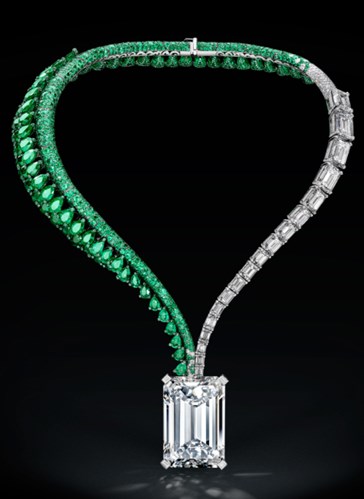 The contrast in colours was a choice made by the founder of Grisogono. Fawaz chose the colour green for it's lucky connotations. It is also clear to be a colour that he loves, as it is prominent in his other collections.
The necklace has been designed in a way to allow the Emerald Diamond to be detached from the necklace; this is so the new owner may incorporate the Diamond into other jewels and creations if they wish.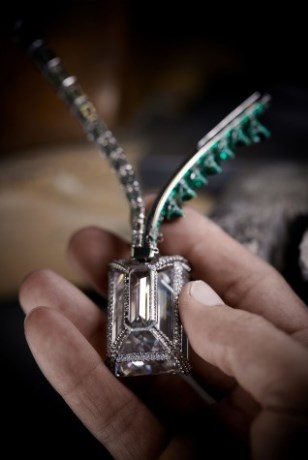 The necklace began its world tour on the 28th September, where it was revealed in Hong Kong. The necklace will travel to London, Dubai, New York and then finally Geneva, where it will then be auctioned on the 14th November.