The Asscher cut is a rounded square, it has large facets with a high crown and a deep pavillion. It's most similar to the Emerald cut and has the brightest step cut - creating a 'hall of mirrors' effect.
It is suggested to buy this diamond with a clarity of at least VS2 as inclusions are more noticeable due to the table of the stone being flat. Well cut Asscher diamonds create flashes of sparkle rather than the twinkling sparkle of brilliant cuts.
This sophisticated shape was popular during the Art-Deco movement and following World War 1: though it was recently seen a comeback in popularity since the engagement of Pippa Middleton.
The Asscher cut began at the Royal Asscher Diamond Company - which was considered prestigious and well respected at that time. It was established but father and son, the Asscher's, who were both experts in the diamond field.
First developed in 1902, the Asscher's were the only ones who were legally allowed to create this diamond cut. This was until World War 2, where most of what the family has built was destroyed and stolen. Due to this, the Asscher cut had a certain historical quality. Not only was it the first patented signature cut, but it was also almost completely destroyed. 
Though, it didn't become popular until the 1920s and then back into fashion in the 2000s.
Technical specification
There are typically 57 facets: 25 on the crown, 8 on the girdle and 24 making up the pavilion.
The number of facets can vary from 50 or 58, though a Royal Asscher has 74.
The ideal ratio is from 1.00 to 1.05 
Although it is known for its square shape, it's actually octagonal due to its corners being cut: though these cropped corners are usually covered by the claws.
Asscher Cut Jewellery
Asscher Amorette in 18K Yellow Gold
Inspired by the French meaning for Little Love, this setting allows light to pass through the diamond to maximise sparkle. The Yellow Gold and diamond-cut combine to give this ring a vintage, yet classic feel.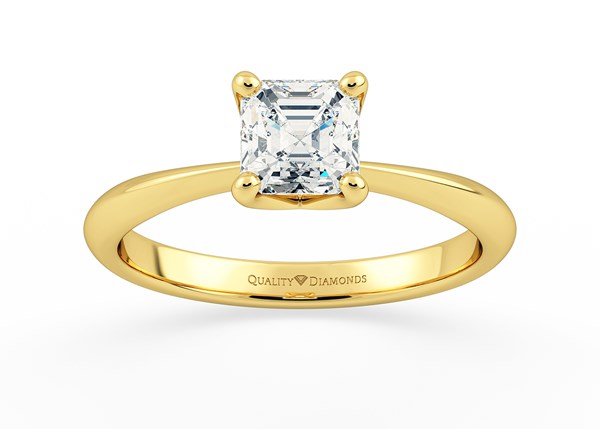 Diamond Set Asscher Bijou in 18K White Gold
This dramatic and eye-catching design is down to both the diamond set bands and micro-pave halo setting: which help to maximise sparkle, meaning this ring with glimmer everywhere you go.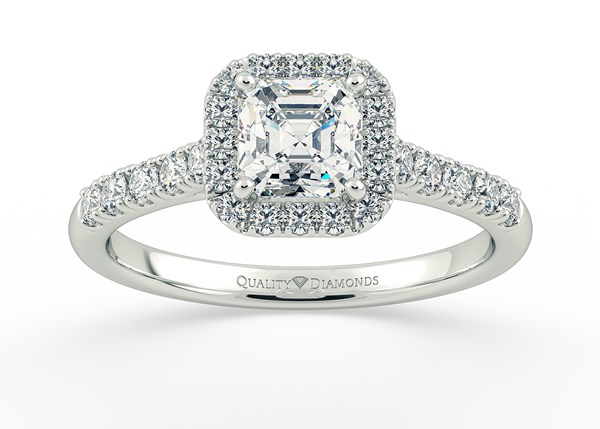 Shop for Asscher Diamond Engagement Rings
Shop for Loose Asscher Diamonds
If you wish to learn more about our Bespoke services, click here.
If you wish to contact us, click here.
Find us on Instagram @QualityDiamonds