Choosing Your Setting Style
A beautiful diamond demands an exquisite setting - one that complements the diamond yet doesn't compete with it for the spotlight. Fortunately, finding the perfect setting is much simpler than finding the perfect stone.
---

TYPES OF SETTING
You probably already know whether you're looking for a ring, a pair of earrings, a necklace or something else. If you don't know - for example, if you're searching for a gift or you just want to treat yourself - think about when and how often the diamond will be worn. A diamond ring won't look out of place worn every day whereas a pair of diamond earrings or a diamond necklace might only be picked for special nights out. There's nothing wrong with either choice, but it's useful to think about which you'd prefer: a piece of jewellery that can be admired every day or one that's treasured for that special feeling it brings when it's put on.
A Jewel in the Hand is Worth Two in the Ears It's also worth considering your budget. Bear in mind that the two diamonds you'll need for a pair of earrings will cost you more than one diamond for a ring. If you have a strict budget, you might prefer to spend it on buying the biggest and best single diamond you can, instead of two lesser diamonds.
Here at Quality Diamonds, we offer a wide range of setting styles for diamond rings and stud earrings but did you know we can also make any type of jewellery to your specific design? If you can't see what you're looking for on our website, please contact us to discuss your needs.


SOLITAIRE OR MULTI-STONE?
With so many stunning setting styles available it's hard to choose just one. Even if you've got a clear idea of what you want, it's easy to be swayed by other styles when you start looking. Often though, you'll know the minute you find the perfect setting because you won't be able to tear your eyes away.


Solitaire simply refers to a setting made for one diamond and one diamond only.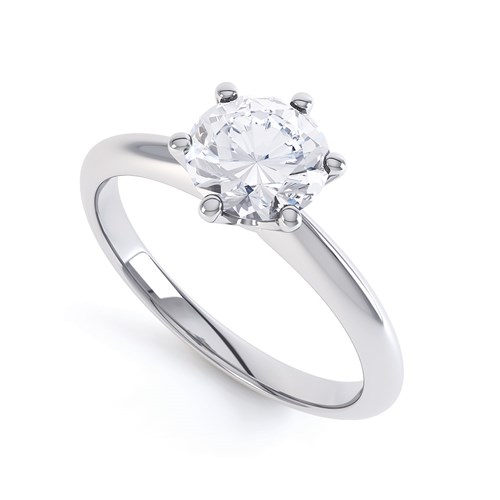 Solitaires are hugely popular for engagement rings and possess a pure, unadorned beauty that will stand the test of time. For necklaces, a solitaire setting can make a subtle and elegant statement, whilst there are few things more gorgeous than a pair of solitaire diamond earrings.
If you choose a solitaire setting, it's more important than ever to ensure your diamond is of the highest quality. The single diamond will be the focus of everyone's attention so go for the best cut, colour, and clarity you can afford, even if that means spending less on the setting to invest more in the diamond. You'll end up with a striking piece of jewellery that will take your breath away every time you look at it.
For a solitaire ring with a difference, consider having the band channel or pavé set with tiny diamonds which will add sparkle and size to the design. See our diamond-set settings for examples of this style.


Multi-Stone Settings
The multi-stone setting is a catch-all term which means anything that isn't a solitaire. These settings give you much more freedom to create a piece of jewellery that will stand out from the crowd and express your unique personality. 
The range and variety of multi-stone settings includes three-stone, side stone, surround, halo, pavé and channel set - the list goes on. A multi-stone setting can be as simple as a solitaire bound on either side by two side stones or as elaborate as a three-tiered wedding cake iced with diamonds. 
Bear in mind a multi-stone setting will cost more than a solitaire setting because you're paying for the extra gems. 


POPULAR MULTI-STONE SETTING STYLES


Sidestone Ring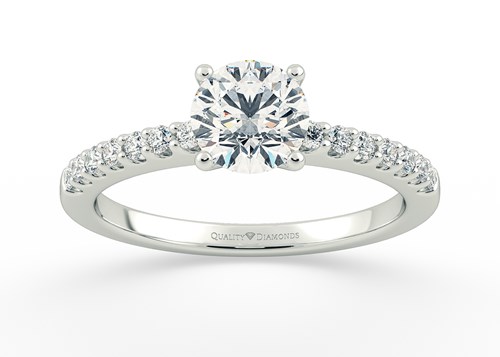 A single centre stone flanked on either side by two or more diamonds. Settings with three same-shape diamonds in a row are more commonly referred to as three-stone settings. The centre stone in a side stone setting is usually a round brilliant or princess cut diamond, although it's possible to use any shape diamond you like in your design.
The flanking stones are usually slightly smaller and although they may be the same shape as the centre stone, using fancy-shaped diamonds is also very effective. For example, pear or baguette diamonds on either side of a round brilliant help to emphasise the centre stone and give the design a tapered look. 
Sidestone settings can also resemble solitaire settings, with the side stones being small diamonds which are channel or pavé set on the band. Channel set stones are flush inside the band, like a river of diamonds between two metal banks, whereas pavé set stones sit on top of the band - the band is literally 'paved' with diamonds.


A border of miniature diamonds encircles the centre stone, making it appear larger and adding extra sparkle and detail. Surround set jewellery often mimics vintage designs and creates a feeling of opulence.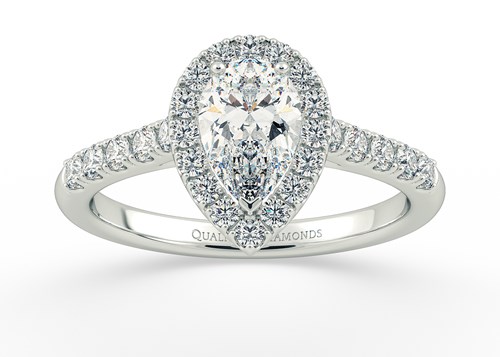 When the surrounding diamonds - which are usually pavé or micro-pavé set - are level with the centre diamond, the style is usually referred to as a "halo". Surround settings can also be arranged as tiers, wedding cake style, with the centre diamond raised above one or even two tiers of diamond-encrusted circlets.
A surround setting suits any shape of brilliant cut diamond, ie. round brilliant, princess cut, radiant, oval, marquise, heart-shaped and pear-shaped. Emerald-cut diamonds and other step-cut styles don't work as well because the surrounding stones are more sparkling than the centre stone, which then appears flat and dull.


Three-Stone Setting
Three near-identical diamonds set side-by-side are said to symbolise the past, present and future. This type of setting is a classic engagement ring style and is also more and more being bought to celebrate a 3-year anniversary.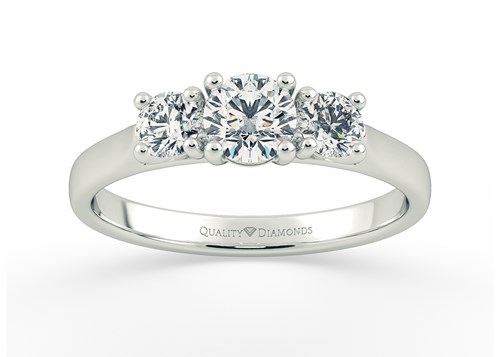 The centre stone is usually slightly larger than the two outside stones although they can also be the same size. The traditional diamond shape for a three-stone setting is round brilliant, but princess or emerald cut diamonds also look stunning. This setting is beautiful on its own or when combined with a pavé set band.
When buying a three-stone setting, ensure all three stones are closely matched in terms of cut, colour and clarity grades to avoid them looking uneven.
Sign up for our Newsletter
Keep up to date with latest news and exclusive offers
Ethically Sourced Diamonds

Handmade in the UK

FREE Shipping Worldwide

60 Day Returns