Design Your Own Jewellery
We have an incredible team of Skilled Designers, Diamond Experts and dedicated technology to work with YOU every step of the way.
---
Creating your Vision
Using your own rough sketches, photos that inspire you or even chatting through the images you have in your mind's eye, we strive to get to know you and your vision. We love being inspired by you, and are incredibly satisfied when we find new and exciting ways to incorporate sentimental elements to your design. We are not content unless your piece is a reflection of your true self, a piece you can be proud of and a piece you can cherish forever.


At Affordable Prices
Bespoke jewellery doesn't have to be expensive. At Quality Diamonds, your budget is respected as a key element of the design process, and we will never try to up-sell you beyond your agreed budget. We commit to use our wealth of experience and huge diamond database to guide you through the step-by-step process of producing an exquisite piece of jewellery, on time and to budget.


Concept To Reality
Whatever the occasion and whatever the idea, we'll talk you through the options and advise you on the best ways to achieve your vision whilst ensuring you maintain absolute control over your design and budget.


Step 1 - Consultation
To get to know you and your vision, we will arrange a chat with one of our experts in either Hatton Garden or Milton Keynes. This can be over the phone, through Skype and even email. The more detail you can give us, the clearer our understanding, but it's OK not to be too specific at first, we can help you explore ideas and concepts.
CASE STUDY
Rob and Lucy came to us with very specific requirements. They knew they wanted a spectacular Oval diamond ring. Working closely with our Hatton Garden team they added more diamonds and a beautiful twist to the shoulders.


Step 2 - Sourcing the Perfect Diamond
Knowledge is power. No two diamonds are exactly the same. Every diamond has a multitude of features that can impact on quality. Our diamond experts are on hand to ensure you understand these qualities and how they impact on sparkle and ultimately price. Once you are comfortable with your own preferences we mine our huge worldwide diamond database (over 150,000 diamonds) to identify the stone that best meets your requirements and budget. Then we ship it to the UK for you to view.
Rob and Lucy were able to explore diamond attributes to find their perfect diamond, They choose a stunning Oval GIA Certified 1ct DVS1 Diamond.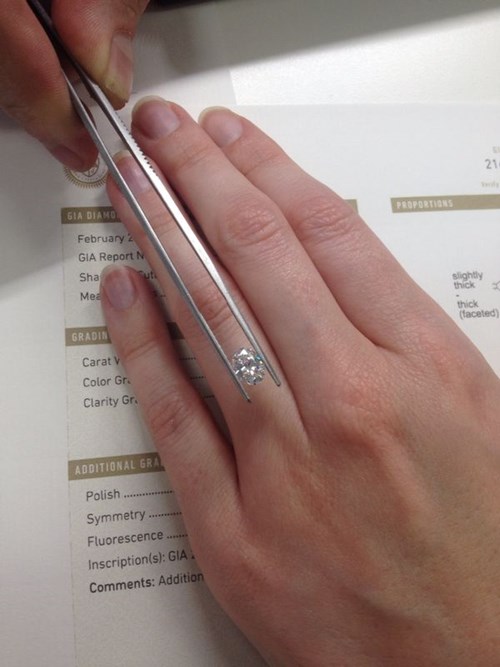 The clarity of diamond will be judged against a GIA chart of 11 possible grades. F (Flawless) through to I (Included).
VS1 is 4th on this grading chart and although it will include some minute inclusions (tiny imperfections in the structure) they will be impossible to see with the naked eye.
Our Diamond Expert was able to provide them with several diamonds that fit their initial requirements, and together they evaluated other factors such as symmetry, cut grade, polish grade and fluorescence against their budget to identify their own perfect diamond.


Step 3 - Design And Creativity
Once we are all happy that we understand your vision, our designers will get to work producing a computer generated rendered image or a sketched illustration. This is the point at which your vision starts to take shape. Communicating over the phone, through email, Skype and/or WhatsApp, together we evolve and tweak the design until you are 100% happy.
Using our specialist software, Rob and Lucy worked closely with our experts to perfect the exact proportions of their ring. Agreeing on 4 claws, our designers set to work experimenting with the degrees of twist, and thickness of metal eventually finding the perfect balance.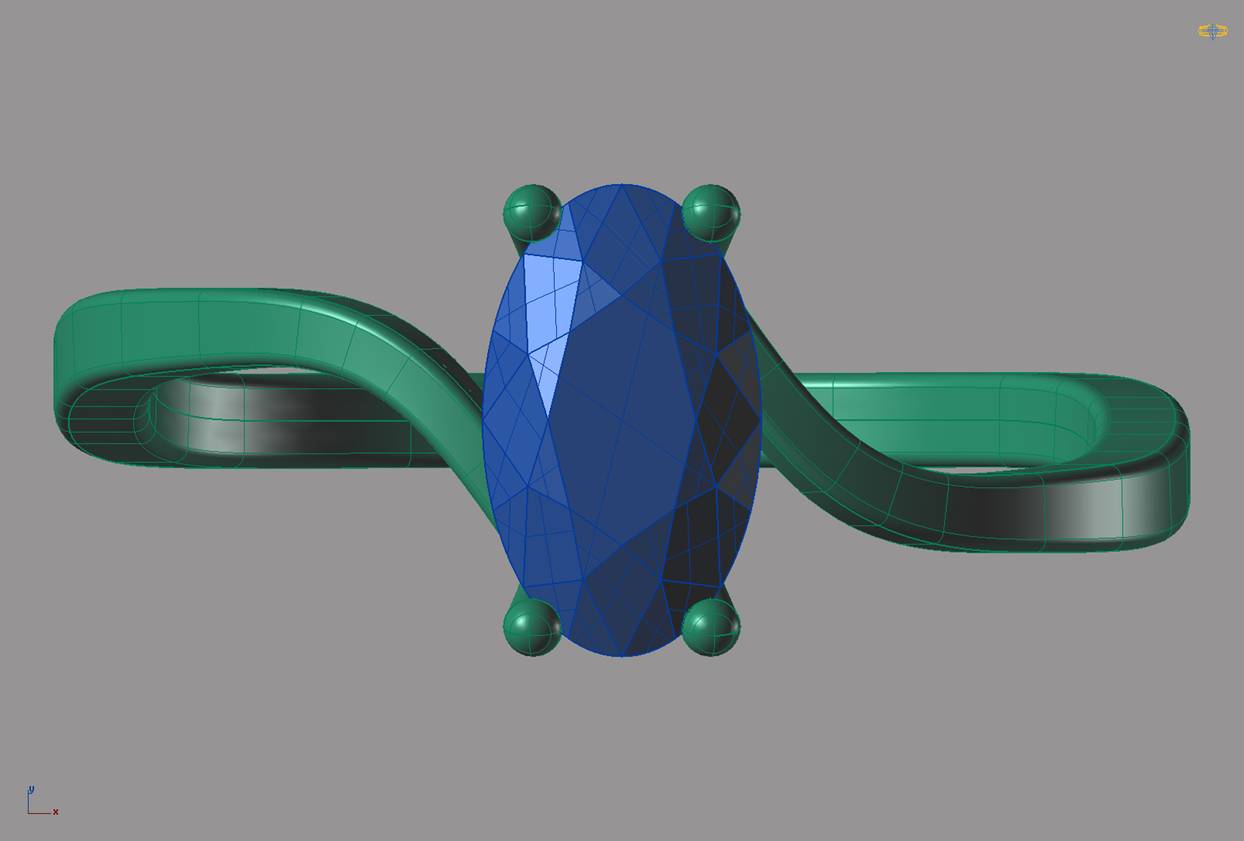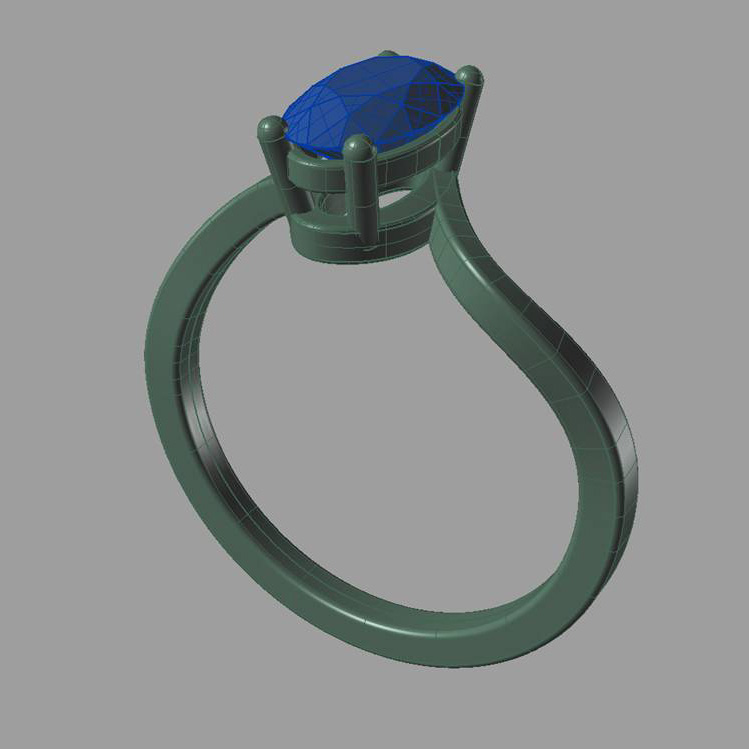 Step 4 - Commission And Build
Once you have approved the final design, we will produce your unique piece of jewellery utilising the very latest technology or traditional craftsmanship. We have several techniques available depending on the complexity of your design.
Where your design has been created using our cutting edge CAD programme we would recommend modern technology to rapid prototype and cast into the precious metal. For particularly intricate and complex designs, we would recommend that our skilled Master Craftsmen use traditional techniques to hand-make your piece. As always, your budget influences the method we recommend.


CAD & Prototyping
Computer Aided Design (CAD) has completely revolutionised the way jewellery can be designed and manufactured. Rapid Prototyping is the process that brings your CAD models into physical reality and we partner with a company that have pioneered this technology since 2001.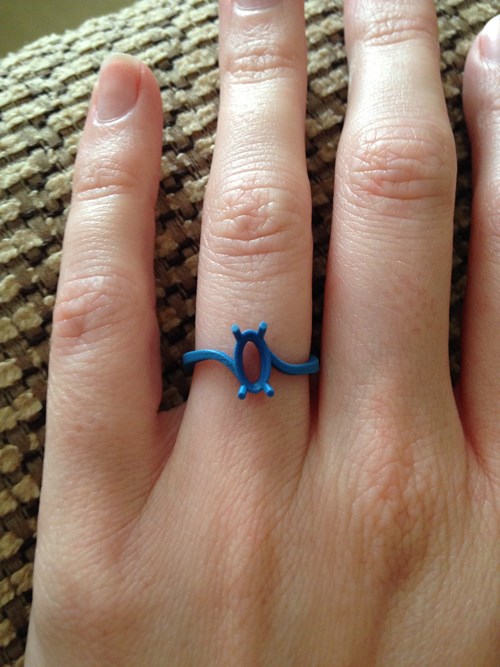 Once you have approved the on-screen rendered CAD image, we use this to create a resin prototype model for you to approve.
A mould is created around the resin prototype, which is then used for the final precious metal cast. The unfinished ring will be removed from the mould, it will then be polished and set with your chosen diamond. After one final polish your stunning bespoke piece is ready to last a lifetime.
Rob and Lucy came into the Office to approve their resin design. Of course, at this stage changes can still be made. Lucy was able to feel the ring on her hand to test the proportions and make sure there were no further tweaks she wanted to make. Their ring was then able to be cast into the precious metal then finished by our master craftsmen who hand-set the central diamond and additional diamonds into the shoulders.


Handmade
For items that are especially intricate and detailed our skilled Master Craftsmen will hand make your design using traditional manufacturing tools and centuries-old techniques. To finish, the piece will be set with your chosen diamond, creating your beautiful piece of custom-made jewellery of the highest quality.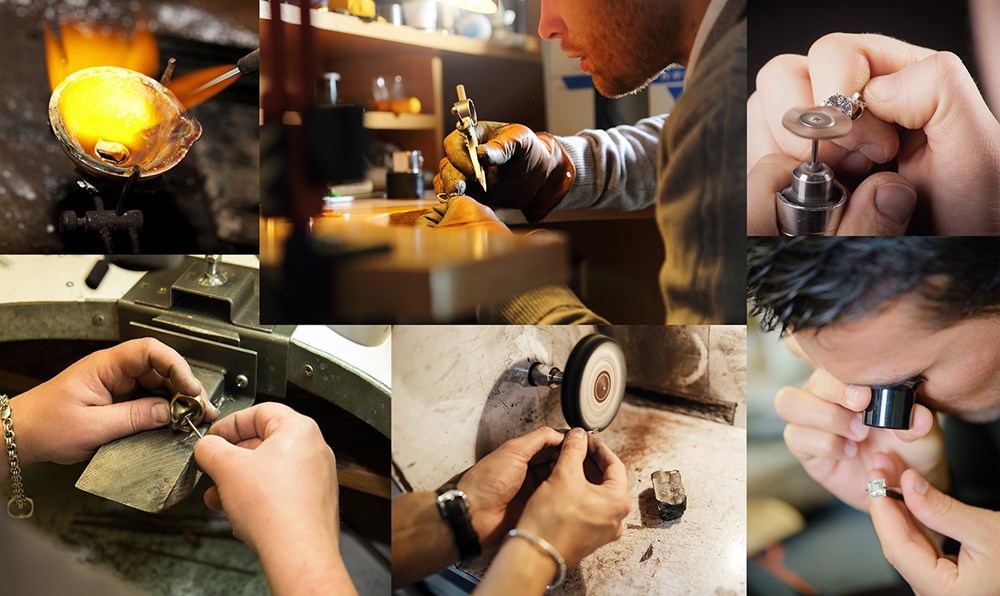 Final Unveiling
Once your jewellery has been carefully polished and undergone rigorous quality assurances, we can arrange for the ring to be sent to you or of course you can come and collect from one of our offices.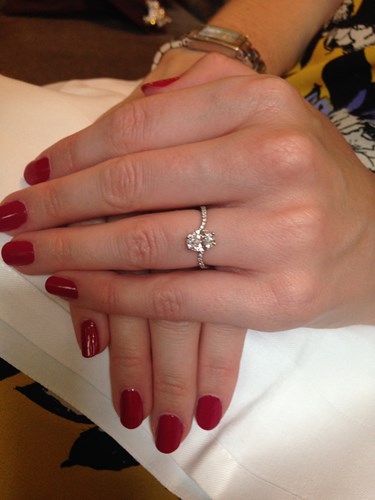 Rob and Lucy were both thrilled with their Engagement Ring and have returned to us to create complimentary pieces. For his wedding ring, Rob selected a Platinum Traditional Court Wedding band. Lucy however needed a band shaped to nestle perfectly against her Oval diamond. Continuing the theme of Oval Diamonds, Rob has recently surprised Lucy with a gorgeous pair of earrings.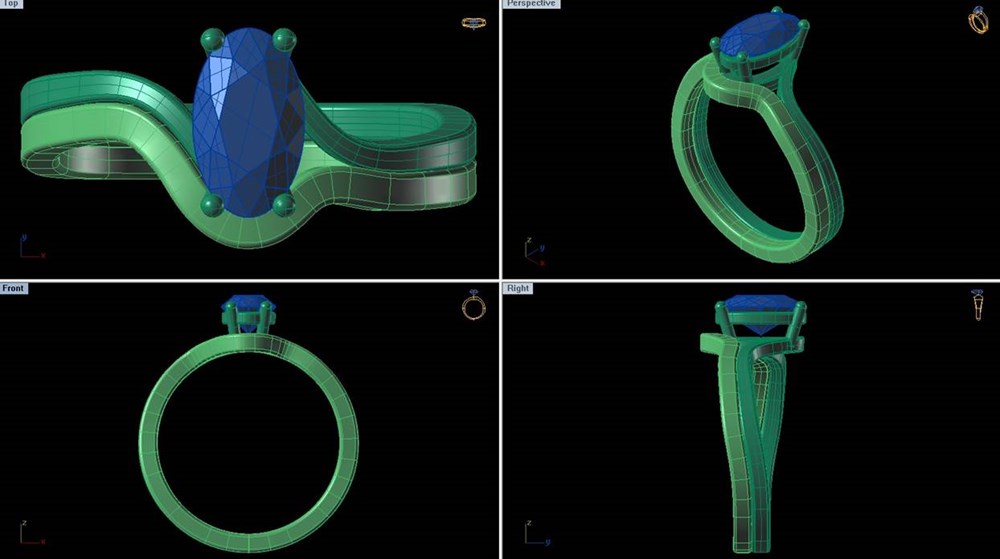 Timeline
As each piece is a collaborative process, and entirely unique, it is very difficult to give an exact timeline. We would expect an average commission to take around 3 weeks from initial consultation to collection. The physical crafting process will usually take around 10 working days. HOWEVER we will not start the crafting process until the design is exactly in line with your vision.
For an estimate or more information about any of these services, please contact one of our Diamond Experts on sales@qualitydiamonds.co.uk or call us on 0203 7733 511
Sign up for our Newsletter
Keep up to date with latest news and exclusive offers
Ethically Sourced Diamonds

Handmade in the UK

FREE Shipping Worldwide

60 Day Returns