Having been together for 9 years, Lawrence made sure the ring and proposal was absolutely perfect for now fiance Sylwia!
With a very specific idea in mind, Lawrence began his search for the perfect Diamond in July of last year. Flash forward to January 2017, having been unable to find anything that matched his requirements in local jewellers, Lawrence took to the internet. After finding our website he arranged an appointment to visit us in our Milton Keynes showroom.
Lawrence came prepared with images of an ideal ring in mind, and after meeting with one of our Diamond experts and discussing Lawrence's vision, the next step was to find the perfect Diamond.
After saying no to many Diamonds, and almost missing out on one Lawrence thought was near to perfection, our Diamond Advisor contacted Lawrence with a feeling that he'd found the perfect one.
Once Lawrence saw the Diamond he realised it was everything he wanted it to be, and the design process for Sylwia's ring began.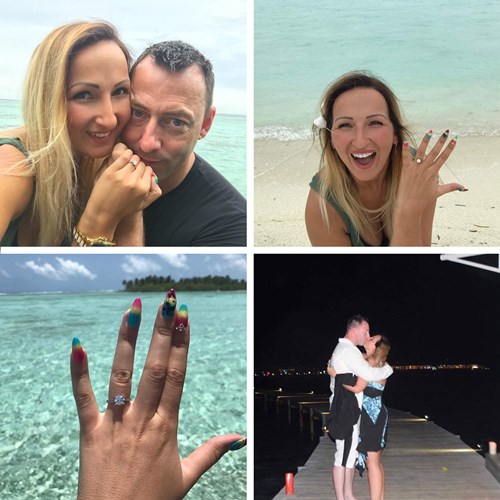 Lawrence says:
'What more can I say, Without the help from Ray and the team at QD this ring would not exist, and as far as the end client's reaction, I'll let you be the judge of that.'
On the 25th August, Lawrence and Sylwia jetted off to the beautiful Maldives for a 2 week holiday, unbeknownst to Sylwia that she would be coming home with a gorgeous ring on her finger!
Lawrence planned for the proposal to take place at the end of a Jetty walkway in Meemu Atoll. With candles arranged and the scene set, on the 27th August Lawrence lured Sylwia into a spot on the podium, with the false pretence of capturing a photo. Before she knew it Lawrence was down on one knee ready for that all important question.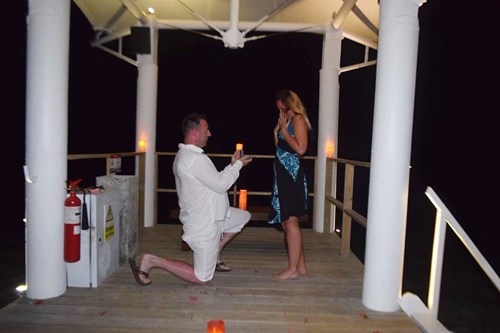 Over joyed with the thought that went into the proposal, and in love with her ring, Lawrence and Sylwia then enjoyed a romantic candle lit meal on the beach.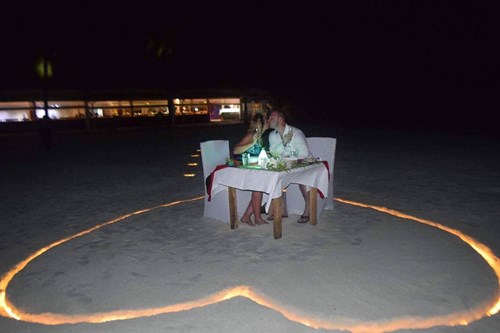 Lawrence chose a Round Brilliant Diamond Solitaire with Diamond set Shoulders, in a Platinum setting.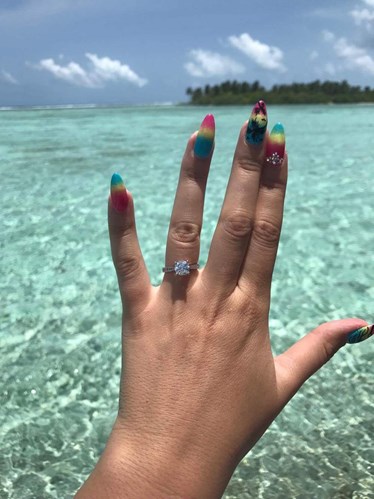 For a ring similar to Lawrence's design, see our Mirabelle ring from our Collection.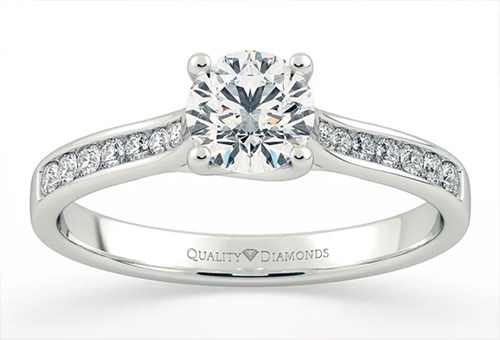 Diamond set Mirabelle in Platinum.
Congratulations to Lawrence and Sylwia! We hope to work with you both again in the future!