Simple and sophisticated, classic Diamond studs are a gorgeous accessory for every woman's jewellery box.
Diamond earrings add a sparkling finish to any occasion, and there's nothing more elegant than a pair of classic Diamond studs.
Ear piercing is one of the oldest forms of body alteration, and can be dated back to early history. It is a popular tradition in many cultures, and has been a fairly common trend in modern society for many years.
A noticeable characteristic of a stud earring, is the appearance of the stone or design floating on the ear, with no visible point of connection. When it comes to Diamond studs, the Diamonds are commonly held in place by either Gold or Platinum 'claws', in order to keep the stone secure. As well as varying styles of claw designs, there are a few other settings that can be used to hold Diamonds in place.
If you've opted for a Solitaire Engagement ring, then classic Diamond studs are a beautiful accessory to complement your graceful design.
Below we've listed 5 examples of some of our Classic Diamond Studs. All of these earrings are available in 18K Yellow Gold, 18K Rose Gold and Platinum. Some of these designs are also available in different Diamond shapes.
White Gold Four claw setting for Oval Diamonds
A traditional 4 claw setting for a Diamond stud, this classic double gallery setting sets the Oval Diamonds in 18k White Gold. The 4 claws hold the Diamond in a delicate way to accentuate the appearance of the Oval shape.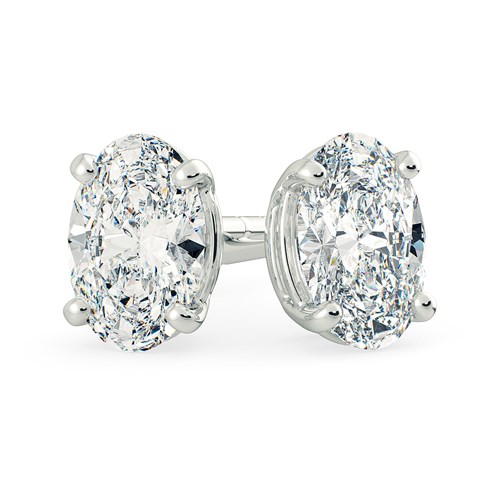 18K Yellow Gold setting for Round Brilliant Diamonds
Showcasing a more modern take on the classic Diamond stud; with a rub-over earring setting, the metal surrounds the Diamond and gives the earring a soft shining finish. Encased in the metal of your choice, the Diamonds are held securely inside the setting.
18K Rose Gold setting for Round Brilliant Diamonds
Another traditional claw set design, this 6 claw setting embraces the circular shape of the Round Brilliant Diamond, with 6 perfectly proportioned claws supporting the Diamond.
18K White Gold setting for Princess cut Diamonds
This setting presents another modern design, where the Diamonds are held in a semi-flush earring setting. The earrings hold the Princess cut Diamond on two sides, with the other 2 sides open. This allows light to reflect through the Diamonds.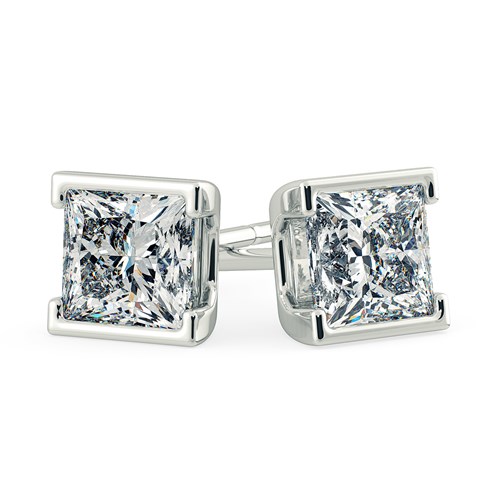 18K Yellow Gold setting for Round Brilliant Diamonds
Allowing optimum light to pass through the stones, this classic stud design showcases the Diamonds in a 3 claw setting. Showing the stone off in a more hidden setting emphasises the typical nature of a Diamond stud earring.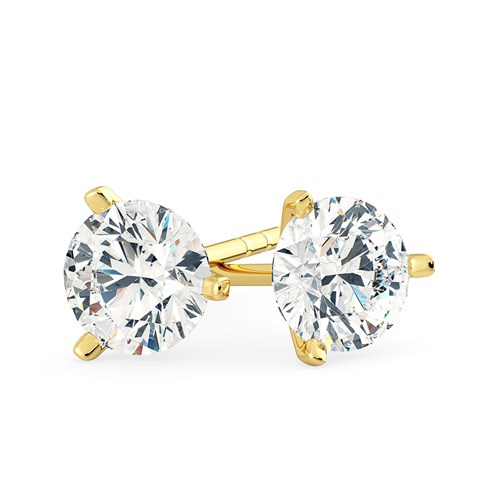 There are many different styles and designs to choose from when it comes to Diamond stud Earrings, and we have a wide range available to view on our website.

To shop our full collection of Diamond Earrings, click here.
If you wish to learn more about our Bespoke services, click here.
If you wish to contact us, click here.
Find us on Instagram @QualityDiamonds