Sparkle brightly this November, with some of our stunning Diamond Jewellery!
As Christmas nears and November comes knocking, why not glisten like the stars and decorate your wrist with a dazzling Diamond bracelet!
Bangles and bracelets have been around for thousands of years, with some of the earliest examples dating back to Egyptian times and the Mauryan Empire. The difference you'll find between them is that bracelets are free-flowing, whereas bangles are rigid in place.

The Scarab Bracelet is one of the most recognised symbols of ancient Egypt, meaning Bracelets can be dated all the way back to the Egyptian period in 5000 BC! When Bracelets were first around, they were made of materials such as bones, stones and wood.
The earliest known use of Bangles date back to 322 BC. Bangles were then worn by women from the Mauryan empire, and were often made of materials such as copper and shells.

In recent decades, bangles and bracelets have become fashion pieces worn by many people around the world. Nowadays, they are more modernly made of Gold and Silver, and can be decorated with glorious gemstones and Diamonds.
We've chosen 4 of our gorgeous Diamond bangles and bracelets, that you won't be able to keep your eyes off of!
Alvera-
Our Alvera Diamond bracelet finds its inspiration from the Spanish meaning for beloved. Set with Princess cut Diamonds, the Alvera bracelet is a contemporary design, and is available in 4.5ct and 6.5ct.
Draped stylishly across the wrist, this beautiful bracelet is the perfect accompaniment to any outfit!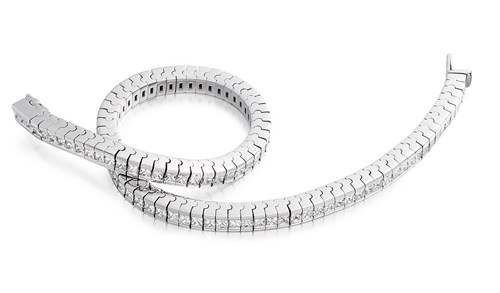 Carina-
Our Carina Diamond bracelet is inspired by the French word for Pure. This Classic design is set with Round Brilliant cut Diamonds in a bezel setting. The bracelet is available in a range of metals, and can be crafted in a 2.0ct, 3.0ct, or 4.0ct design.
We think this Diamond bracelet is an excellent choice for any special event!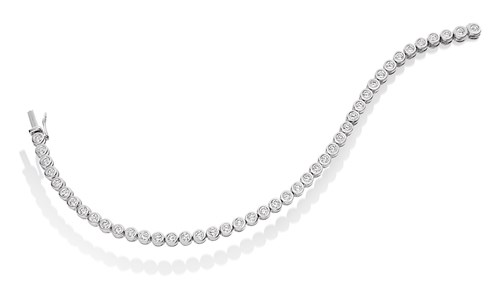 Asta-
Our Asta Diamond bangle takes its inspiration from the Scandinavian meaning for Love. Designed in a contemporary style, the bangle is channel set with a delicate row of Princess cut Diamonds.
Available in both 1.0ct and 1.5ct, our Asta bangle can be ordered in a range of metals.
We think this Diamond bangle is perfect for an elegant occasion or a candle-lit date night!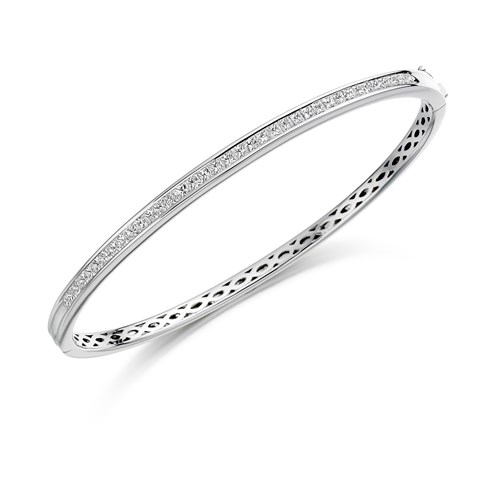 Milena-
Our Milena Diamond bangle takes its inspiration from the Slavic word for Love and Warmth. This bangle houses a pave set of Round Brilliant Diamonds, flowing gracefully around the bangle. Designed in a Vintage style, this Diamond bangle totals 2.25ct. Like all our other designs, this bangle is available in a range of metals.
With sparkle to last you a lifetime, and an endless row of Diamonds, it's hard not to fall in love with our Milena bangle.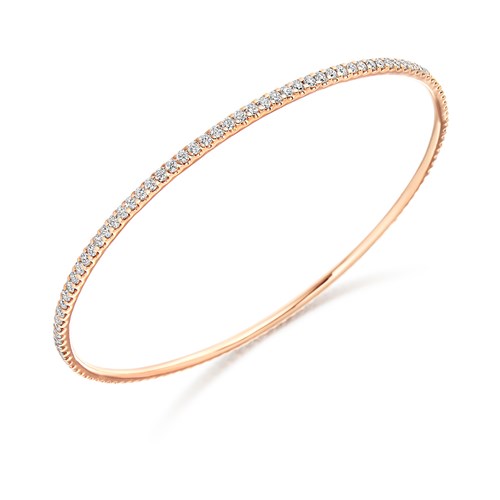 All of our Bangles and Bracelets are available to order! Simply contact one of our Diamond advisors through Live Chat, by email, or by telephone.
To shop our Diamond Bangles, click here.
To shop our Diamond Bracelets, click here.
If you wish to learn more about our Bespoke services, click here.
If you wish to contact us, click here.
Find us on Instagram @QualityDiamonds