Eternity Rings are a token of eternal love and are always special, but what style will yours be? Here's some inspiration and information for your dream Eternity ring.
Meghan Markle's Eternity Ring
Meghan Markle's eternity ring is a delicate pave-set eternity band created by celebrity jeweller Lorraine.
Hidden inside the band are the birthstones for Harry, Meghan and Archie, a "flawless green emerald for Archie, a blue sapphire for Harry, and an olive-green peridot stone for the duchess." Schwartz, where it is known to have a special meaning behind it. This personally meant a lot to her because Sapphires are meant to protect those close to you, Peridots supposedly bring power and Emeralds symbolize love.
Eternity rings are usually given on a significant anniversary but there's no rule to this and can be given to your partner at any time after marriage - whenever you feel it's right! For example, Meghan Markle received hers just after hers and Prince Harry's one year marriage anniversary.
Quality Diamonds' Eternity Rings
Round Micro set: 
This Eternity Ring is set with Round Brilliant Diamonds, the Micro setting enhances shimmer and the endless row of diamonds.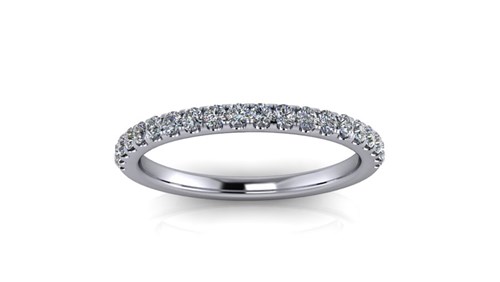 Round Grain set: 
This is the style that Meghan Markle has. 
It is set with Round Brilliant diamonds, where small grains of metal surrounding the diamonds to protect them as well as hold them into place. This gives the ring a sophisticated and sparkle finish
Round Channel Set: 
Set with Round Brilliant Diamonds, the Channel setting emphasises the classic diamond cut, whilst being held together by two strips of metal. This Eternity ring glistens and glimmers wherever you go.
Princess Cut Channel Set: 
This Eternity ring is set with Princess Cut Diamonds, these diamonds are held together with a Channel Setting - this style speaks glamour and elegance.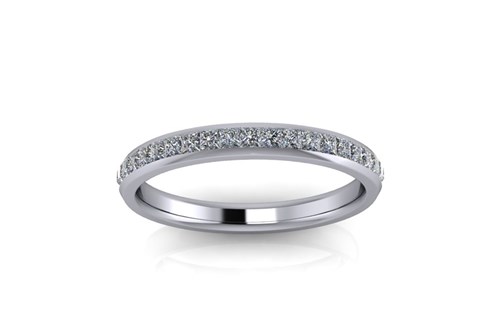 Landscape Baguette Channel Set:
This Eternity ring is set with Baguette Diamonds, in the Channel Setting once again. Whilst this diamond shape is landscape, the design has a long and slender silhouette.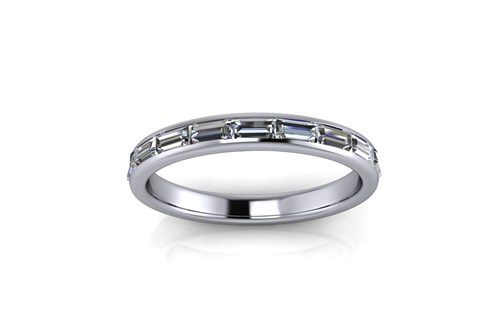 Portrait Baguette Channel Set:
This Eternity ring is also set with Baguette Diamonds with the Channel Setting, though the gems are portrait. This style is very sleek and luxurious.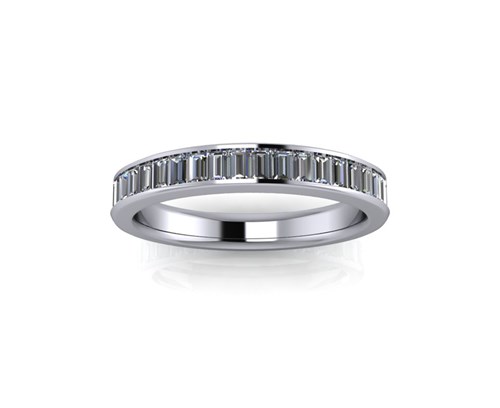 Bespoke Eternity Rings:
Here are Quality Diamonds, we offer a bespoke service where we can design your Eternity ring with you! 
If you wish to not have diamonds, we have many gemstones to choose from like birthstones and more.
If you would like to make your Eternity ring extra personal we can include gemstones you already own, for example if you have any heirlooms or old jewellery which mean a lot to you we can use the gemstones from those.
If you wish to contact us, click here.
If you wish to look at our eternity rings in more detail, click here.
If you wish to find out more about our bespoke services, click here.