Shine like the sun with our Yellow Gold Engagement Rings!
Deeply yellow and boldly bright, Gold has been gracing cultures for centuries.
It is unsure of when Gold was first discovered and used by our ancestors, but it first appeared in its natural state in streams all across the world, and was mined as small shining yellow nuggets.
Being known by the Incas as 'tears of the sun', Gold has forever been recognised as a symbol of power, beauty, and luxury.
In historical terms, Gold is mentioned in nearly every corner of the world, and has been a centerpiece for trade and commerce in many ancient civilisations. Soon enough, Gold found it's way into being used for Jewellery, decorations, and eventually coins.
Gold is sited in many Egyptian and Biblical records, as well as the Greek and the Romans.
For the last few hundred years, Gold has been widely used in precious Jewellery. It is popular for its long lasting beauty, and inherent value.
Yellow Gold has been a treasured choice in Engagement rings and Wedding rings for many years, and is still popular in tradition today. The tones of the Gold exhibits a gorgeous contrast to the very white beauty of a Diamond, and is a perfect metal for showcasing and emphasising your chosen stone.

All of our designs are available in 18K Yellow Gold, and we have a selection of styles to choose from.
Here are 5 of our favourite Yellow Gold rings, that are sure to brighten up your summers day.
Our mesmerising Athena features a solitaire Round Brilliant Diamond in a Vintage design; With delicately twisting bands holding the Diamond in place, the alternate shoulders are set with complementing Round Brilliant diamonds. Taking it's inspiration from the Greek Goddess of Wisdom, this Yellow Gold Engagement ring is sure to turn heads.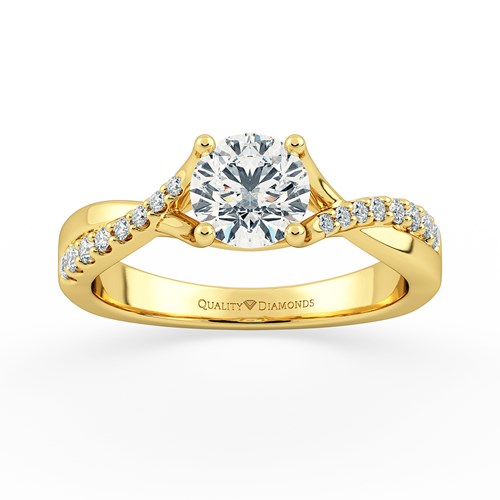 Taking inspiration from the French word for Jewel, it's no wonder our Pear Bijou ring boasts a sparkling and dramatic design. With a Pear cut Diamond in the centre, the Diamond is then encased in a Halo of Round Brilliant Diamonds, and delicately presented with Diamonds micro-pave set into the shoulder. The 18K Yellow Gold band works perfectly with this design, as it proudly emphasises the brilliance of the Diamonds.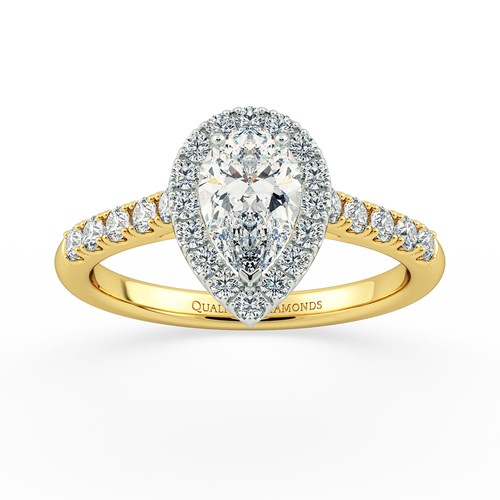 Classically Vintage, this gorgeous Ahava design holds a Round Brilliant Diamond in the centre, with matching Round Brilliant Diamonds set into the band. The shoulders taper in to accentuate the beauty of the central Diamond, whilst the band contours down to form a deep open design, allowing light to sweep through and create incredible sparkle.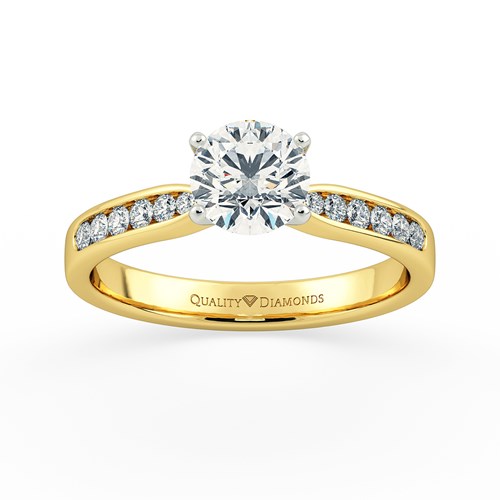 This contemporary and unique design takes its inspiration from the Italian word for Joyful. With three claws surrounding the central Diamond, an elevating twist creates a distinctive look for this stunning ring. Bring together this contemporary design and a traditional feel with an 18K Yellow Gold band.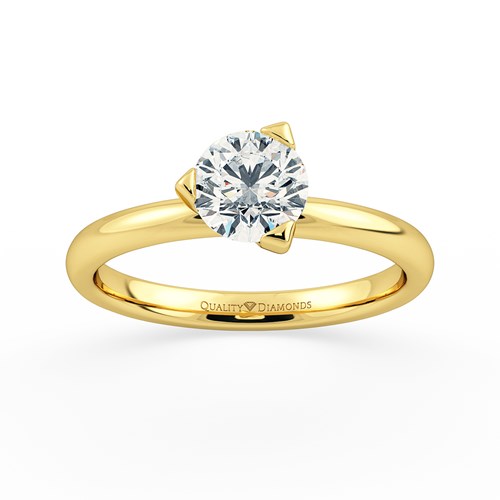 Our Princess Nara is understated and Vintage in design, with it's name taking inspiration from the Gaelic word for Happy. Set with a Princess cut Central Diamond, the 18K Yellow Gold band is decorated with delicate round rubies, creating a beautiful contrast against the Yellow Gold.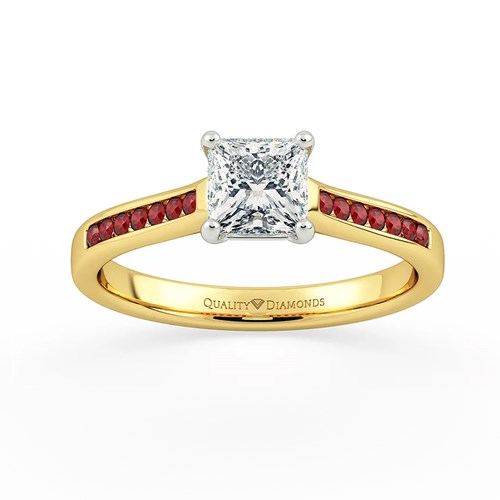 To shop our full collection of Yellow Gold Engagement rings, click here.
If you wish to learn more about our Bespoke services, click here.
If you wish to contact us, click here.
Find us on Instagram @QualityDiamonds