Sparkle this Halloween with these tantalising Rose Gold rings!
'When Witches go riding, & black cats are seen, the moon laughs and whispers 'tis near Halloween.'

The eve of Halloween! Where witches are polishing off their brooms and pumpkin carvings are being perfected; and whilst you finalise your costume, why not consider adding a little sparkle to your outfit!
Halloween is a tradition long treasured and celebrated all over the world.
Fittingly falling in the Autumn season, where the nights begin to grow darker and the days begin to fall shorter; Halloween continues the Autumnal trend with the pumpkins portrayal of that fiery orange we all recognise and love. When it comes to this seasons Jewellery selection, 18K Rose Gold is a gorgeous option, and we think it's a perfect colour choice for Halloween!  

We've chosen 5 scarily stunning Rose Gold rings, that you're bound to love this Halloween!


Emerald set Abbraccio.
Set with 18 vibrant Emeralds, this Diamond ring is sure to make even the most wicked witch sparkle.
Our Abbraccio features four compass set claws, twisting around to the secure the Diamond in place. Delicately set to produce the most exquisite sparkle, this stunning design looks enchanting in 18K Rose Gold.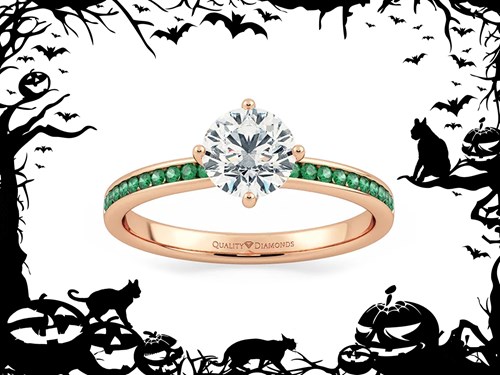 Ruby set Princess cut Nara.
Glistening with 14 round Rubies, this ring will glow richly red for any Vampiress. This classic design holds the Princess cut Diamond in four discreet claws, allowing the Diamond to stand out amongst the crowd. The blush tone of the 18K Rose Gold complements the ravishing beauty of these gorgeous Rubies.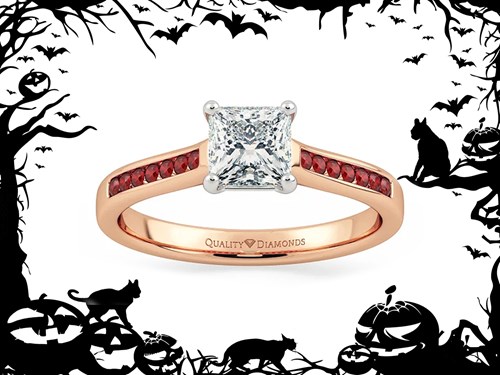 Blue Sapphire and Diamond set Emerald cut Jiya.
Graced with a sea of colours, this Blue Sapphire and Diamond set ring will make any ghost tremble.
Standing proudly and boldly in the centre of the ring, the contrasting colours tapering up to the Emerald cut Diamond showcase a dramatic entrance. As the varying shades of sapphire float delicately up the band, the warming tone of the 18K Rose Gold proves to be chillingly beautiful.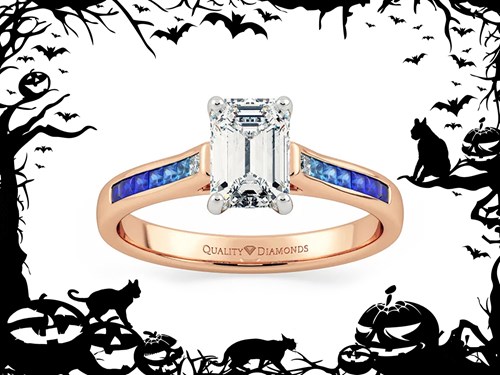 Asscher Rosa.
This Solitaire design promotes a luscious Rose Gold band, perfectly gleaming like the flaming glow from a Halloween pumpkin.
Our Asscher cut Diamond is held delicately in 4 claws, swooping down into a U shape, to allow light to flood the Diamond and maximise sparkle. The exquisite cut of the Asscher Diamond portrays the spooky essence of a Spider's web as you gaze at it from above.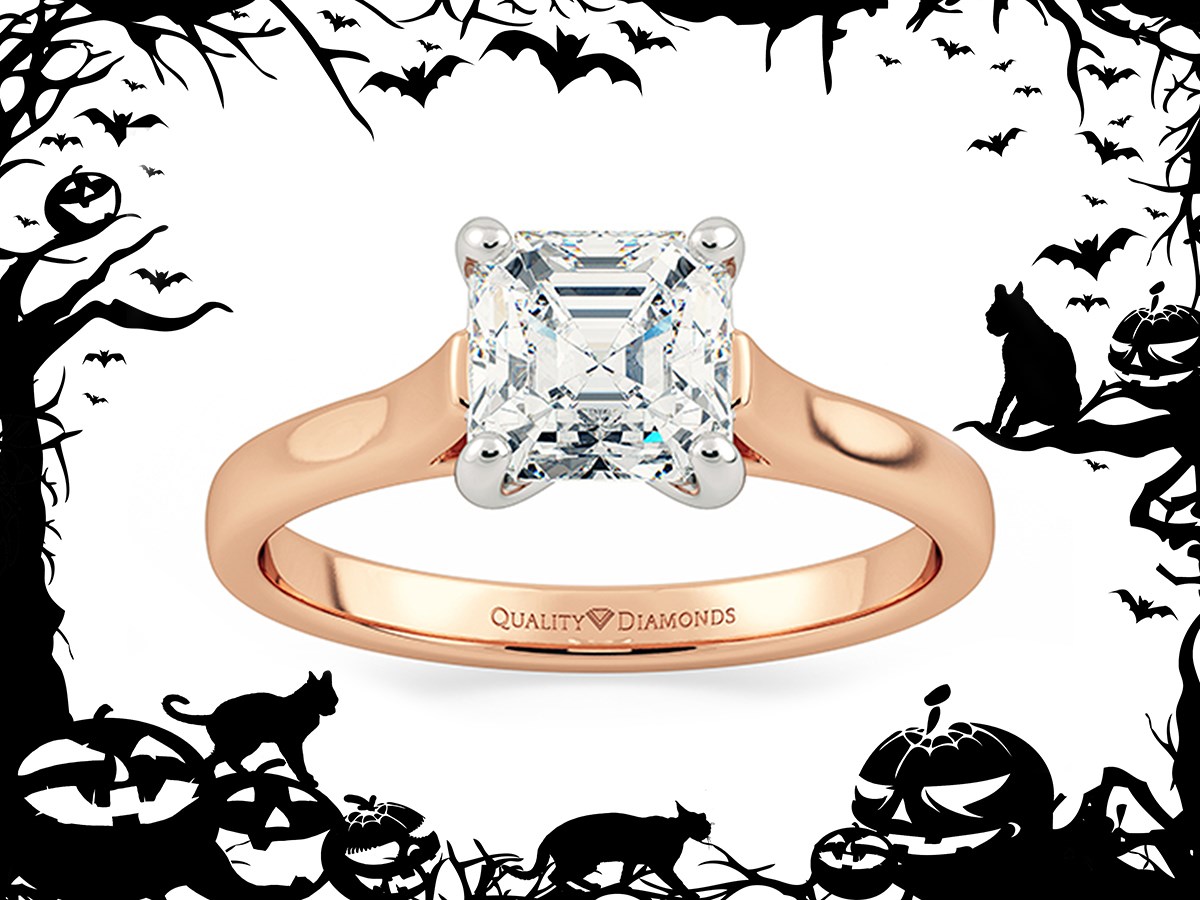 Diamond set Marquise Milena.
Endless in sparkle and vintage in design, these elegant Diamonds will shine through the wrappings of the oldest Mummies!
The Marquise Diamond is set in a flushed claw design, optimising the shape and beauty of the stone. Round Brilliant Diamonds smother the surface of the band, appearing as an endless row of Diamonds. Completed on a Rose Gold bed, our Milena ring is frighteningly autumnal in every way.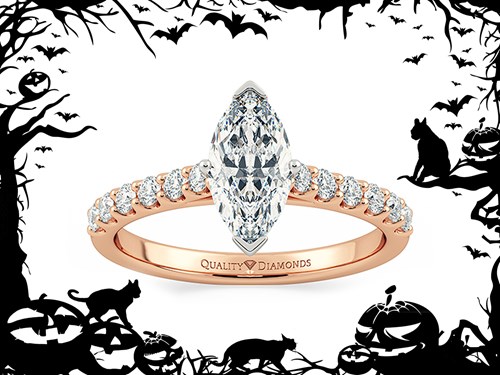 Not only are these rings perfect accompaniments for any Halloween outfit, they are a stunning choice for an Engagement ring! A subtle and secret reminder of your favourite time of year, shared with the one you love.

To shop our full collection of Rose Gold rings, follow the link below.

And on a final note, Happy Halloween!