Solitaire rings are to die for - maybe not literally, but you get my drift… Whether you're looking for an Engagement ring or just treating yourself, this blog may help you find the perfect ring.
Amorette
The Amorette setting is our most popular selling engagement ring style! This is mainly due to its beautiful Tiffany-style design, it's incredible value for money and its availability in all diamond shapes: Asscher, Cushion, Emerald, Heart, Marquise, Oval, Pear, Princess, Radiant and Round. The most popular metal for this diamond engagement ring style is Platinum 950, followed by 18K White Gold.
The name 'Amorette' is inspired by the French meaning for little love. 
Shown below are Heart Amorette, Pear Amorette and Asscher Amorette.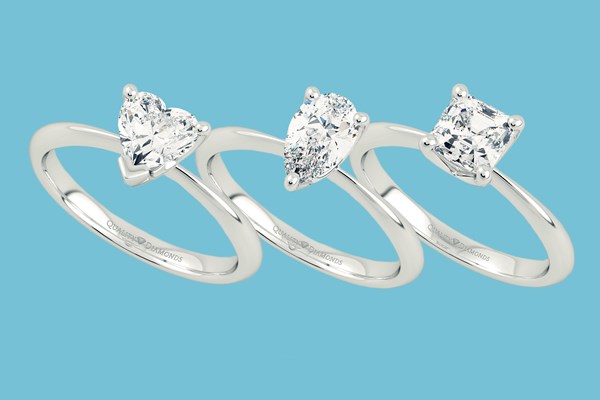 Compass Set Amorette
The Compass Set Amorette is also a very popular setting. As the name suggests, it's identical to the Amorette above, apart from the claws are set pointing "North, East, South and West", hence the name Compass Point. It's available only for Round Brilliant Diamonds and in all metals, although the most popular metal setting, once again is Platinum 950.
This classic solitaire holds the diamond proudly in a delicate four claw compass setting, maximising the amount of light passing through the stone.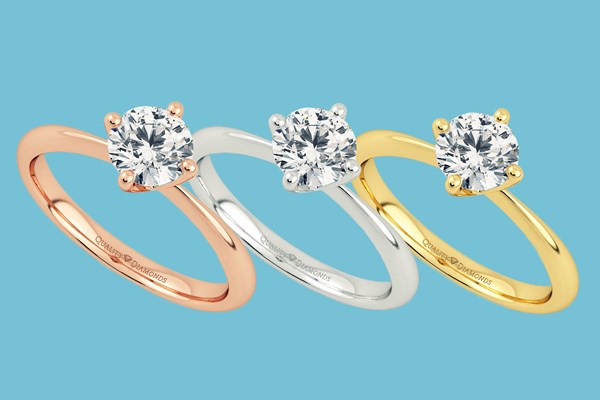 Six Claw Amorette
The Six Claw Amorette is popular due to its timeless Tiffany style beauty and exceptional value for money and is again only available with a Round Brilliant diamond.
This classic solitaire holds the diamond proudly in a delicate six claw setting, the classic court shaped band tapers towards the diamond to complement the sparkle.
Shown below is the Six Claw Amorette in 18K Rose Gold, Platinum 950 and 18K Yellow Gold.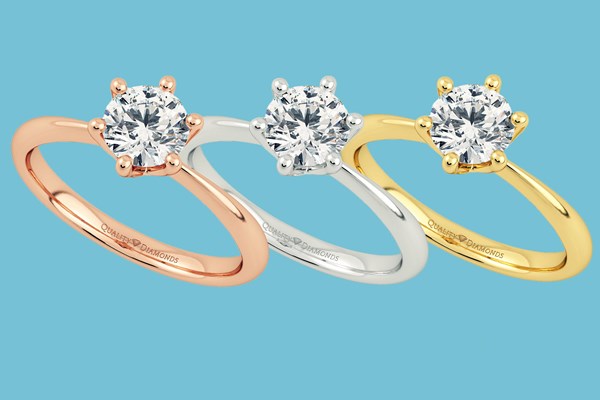 Carys
The Carys Setting is also very popular as it's a beautiful lightweight setting, for those that prefer a more delicate engagement ring. It's available for Cushion, Oval and Round Brilliant diamonds. 
The name 'Carys' is inspired by the Welsh meaning for Love - this classic solitaire features four elegant talon claws to secure its stone, with a slim rounded band to compliment the sparkle. It's an open setting, which maximises the amount of light able to pass through a diamond.
Below shows a Cushion Carys, Round Carys and Oval Carys.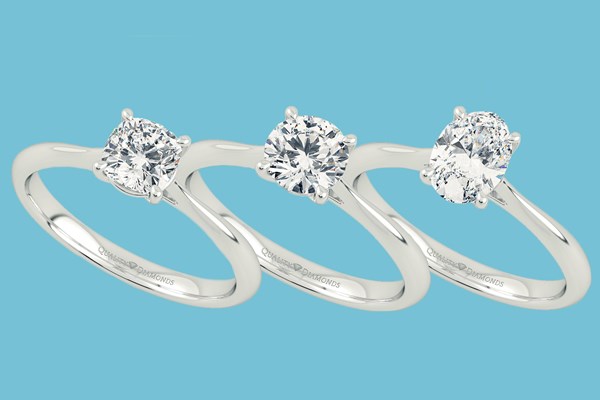 To view our Solitaire Engagement Rings, click here.
To view our Etsy Products, click here.
Learn more about our Bespoke services.
If you wish to contact us, click here.
Find us on Instagram @QualityDiamonds