If you're someone who loves the Vintage aura of this cherished metal, then a Vintage style ring is definitely going to be the perfect match, and Rose Gold Halo rings are a stunning choice.
Warming and subtle, the beautiful blush colour of this gorgeous metal is turning heads everywhere.
For most people, Rose Gold may appear to be relatively new in the jewellery industry; where in fact, Rose Gold has actually been around for a number of years. In 19th century Russia, the compelling blend of Yellow Gold and Copper took place, and has been used in jewellery ever since. It was originally known as 'Russian Gold', but since then has been called 'Pink Gold' or even 'Red Gold'.
In the last decade however, we have seen an increase and rise in its fashionable element, and it has been growing in popularity into the luxury world of jewellery over the last few years. Rose Gold has taken over the Jewellery world in terms of fashion and in luxury.
Unlike White Gold, Rose Gold is not likely to lose it's colour or require plating over time; making it a desirable choice for an Engagement ring. With it's enchanting timeless style, the colouring of Rose Gold looks breathtakingly beautiful when it is set with Diamonds.
One of our favourite settings when it comes to Rose Gold rings, is having a beautiful Halo design. With an angelic array of Diamonds sprinkled preciously around your centre stone, Halo rings are an exquisite way to enhance your brilliance and frame your centre Diamond.
We've chosen 5 of our dreamy Rose Gold Halo rings that you're sure to fall head over heels for!
This Vintage style ring holds a central Round Brilliant Diamond in a four claw setting, surrounded with Round Brilliant Diamonds in a delicate Halo. Our Dolce rings takes its name from the Italian word for Sweet, as the band sweeps up into the Halo to create an elegant design.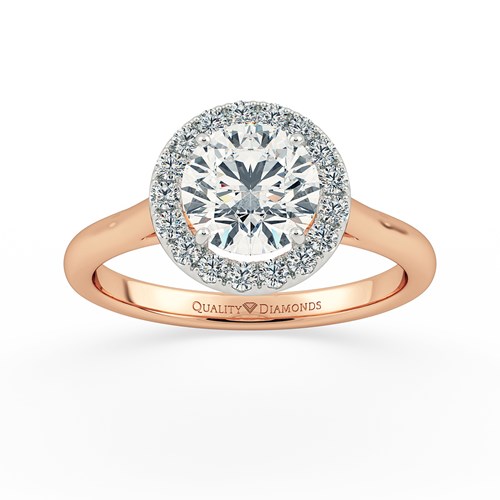 This dramatic Adonia design features a Round Brilliant Diamond in a four claw setting, encased in a sparkling Halo detail. With a split detail in the band, and inspiration from the Greek meaning for 'Beautiful Lady', it's no wonder we think this ring is beautiful.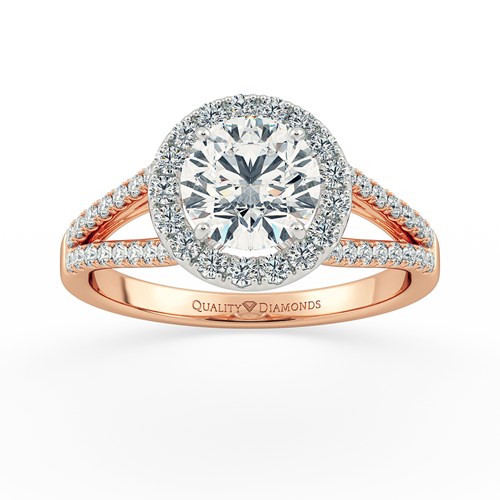 This captivating Vintage ring is enchantingly set with a Pink Sapphire Halo. With a Round Brilliant central Diamond in a four claw setting, this sparkling design captures the light for a dramatic and eye catching design.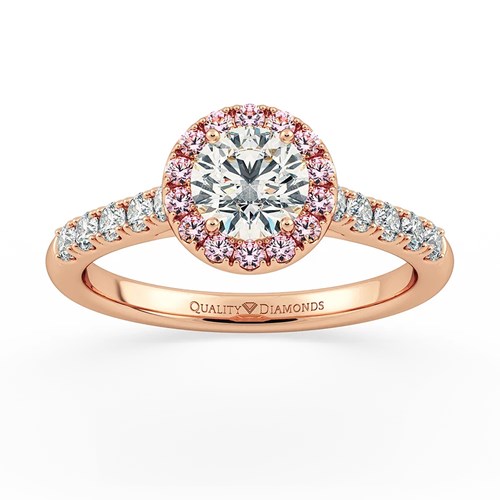 This Vintage style holds a Heart cut Diamond in a three claw setting, surrounded by Round Brilliant diamonds in a Halo feature. With Diamonds set beautifully into the shoulders of this ring, this setting captures the beauty and sparkle of a Vintage Design.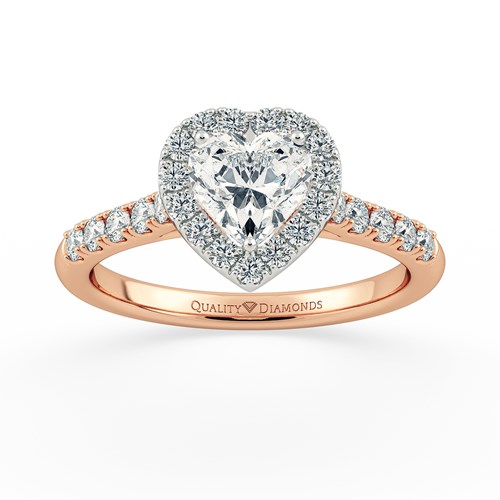 It's no wonder our Eclat ring sparkles exquisitely, when it's name takes inspiration from the French word for 'Sparkle'. This delicate Round Brilliant Diamond is set in a four claw setting, surrounded by a double Halo of Round Brilliant Diamonds.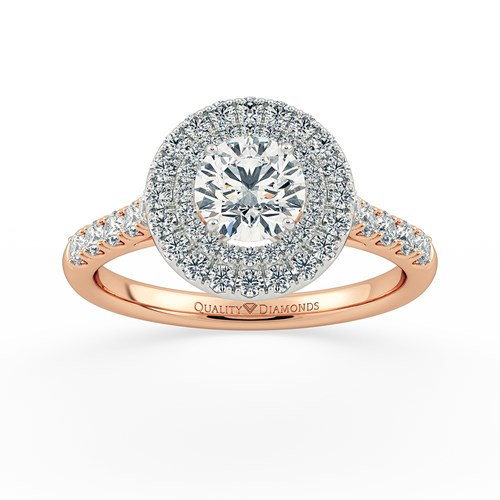 To shop our full collection of Rose Gold rings and Halo designs, click here.
If you wish to learn more about our Bespoke services, click here.
If you wish to contact us, click here.
Find us on Instagram @QualityDiamonds