White Gold is a dazzling bright metal that is sure to enhance the beauty of your Diamonds. Find out more about White Gold and see 5 of our top picks for White Gold Engagement rings!
When it comes to choosing your Engagement ring, the metal of your ring can be every bit as important as choosing your Diamonds.
For some people, the choice of which metal to go for is often focused on what colour they want their ring to be. Traditionally, the 2 main colour choices are between Yellow or White; however in recent years, Rose has become an ever growing popular option too.
If a White metal is what you're looking for, then there are 3 favoured options to consider. Platinum, Palladium and White Gold.
Gold is naturally yellow in colour, and much like Rose Gold, White Gold is not a natural occurrence. To make White Gold, pure Gold is alloyed with naturally White metals, resulting in the brilliant white metal we see today.
When choosing White Gold for your Engagement ring, there are a few things to remember.
White Gold is Rhodium Plated.
Once Gold is alloyed with White metals, another naturally White metal called Rhodium is plated on top. Rhodium is a glittering mirror like metal, and gives that sparkling pure White appearance to your ring. Something to be aware of is that the Rhodium plating can fade over time, and you may find that your ring will start to appear almost champagne in colour. However, the fantastic thing about a Rhodium coating is that once it starts to fade it can simply be re-applied, giving your ring that exquisitely new finish once again!
White Gold's Hardness.
White Gold is not as hard or durable as its competition Platinum, and therefore is something to be aware of when purchasing. Gold is a naturally soft metal and can wear over time. Because of this, we suggest taking your ring off if you are doing anything strenuous with your hands that could wear down the metal or affect the shape. We also suggest to always 'match' metals. This means if you have a White Gold Engagement ring, it is best to purchase a White Gold Wedding band too, as a harder metal will wear away quicker at your White Gold ring.
The price of White Gold and Karat weights.
White Gold is less expensive than other metals like Platinum, which makes it a great choice. It is a perfect option to achieve that desired white finish, leaving you more to spend on the Diamond. As Gold is alloyed with other metals to make it usable in Jewellery, its Purity is measured in Karats. The system is made up of 24 fractions, and therefore Pure Gold is 24 Karats. Most commonly in Jewellery in the UK, 9 Karat and 18 Karat are popularly used. Here at Quality Diamonds, we use 18K White Gold in our Engagement rings, which means the ring is made of up 18 Karats Pure Gold, and 6 Karats of other metals.
White Gold is a great affordable alternative to Platinum, and with the right knowledge and aftercare, can be a beautiful choice for your Engagement ring.
Below we've listed 5 examples of our beautiful White Gold Engagement rings!
Inspired by the French word for Cheerful. Our Contemporary Solitaire Jolie wraps around the Brilliant Round Diamond with the band creating a ribbon effect to hold the Diamond securely. The delicacy of this twist design shows off the sparkle perfectly.
Inspired by the Hebrew meaning for Dearly Loved. Our Art Deco style Trilogy Design with a central emerald cut features two additional tapered baguette cut diamonds. The tapering band leads your eye to the stunning diamonds.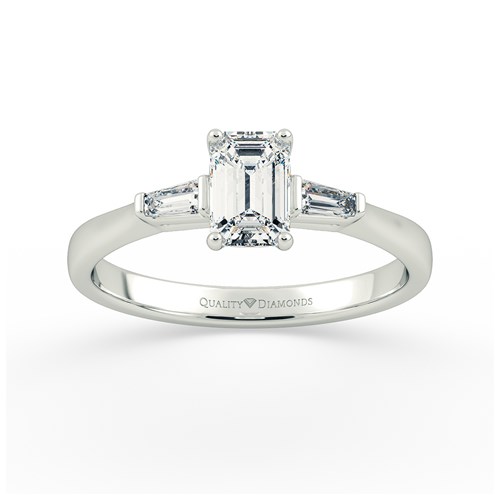 Inspired by the Latin word for Treasure, Our Vintage Solitaire Aracelli features a delicate Four Claw setting with intricate detailing beneath the diamond. Six 1mm brilliant round diamonds nestle amongst the uniquely swirling precious metal.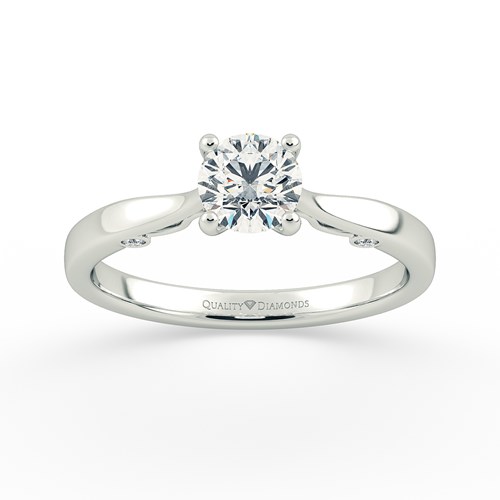 Inspired by the French word for Jewel. Our Marquise Cut Halo Bijou holds the central diamond in a two claw setting with surrounding brilliant round diamonds micro-pave set in the shoulders too. This very Sparkly Vintage Style captures the light beautifully creating a very a dramatic and eye-catching design.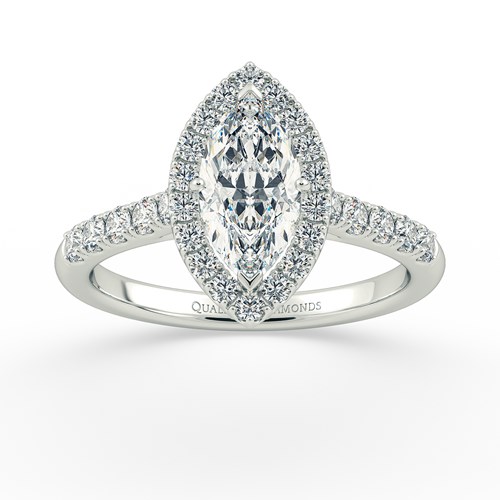 Inspired by the Greek Goddess of Marriage. Our Classic Solitaire Hera features three delicate prongs to enhance the unique shape of the Heart diamond without detracting from it's natural beauty. The elegant band sweeps round the finger and tapers to solid shoulders emphasising the size and sparkle of the diamond.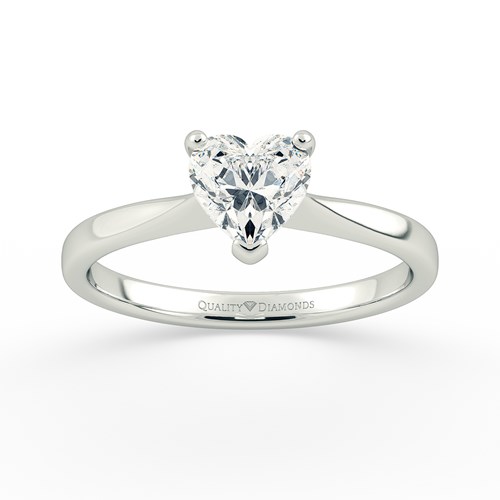 For more information on 'White Gold', read our Expert Advice article here.
If you wish to learn more about our Bespoke services, click here.
If you wish to contact us, click here.
Find us on Instagram @QualityDiamonds