Congratulations to the Duke and Duchess of Sussex on their marriage!
Saturday was the perfect day for a Wedding, and what a gorgeous Wedding it was! If you didn't watch the Wedding of Prince Harry and Meghan Markle at the weekend, we can guarantee you were missing out!
With the public already there, the excitement of waiting for celebrities and Royals to arrive was growing.
Many celebrities joined the Duke and Duchess of Sussex at their ceremony, and we've listed below some of the most notable figures we spotted!
Idris Elba
George and Amal Clooney
James Blunt
James Cordon
James Haskell and Chloe Madeley
The Beckhams
Tom Hardy
Elton John
Marcus Mumford and Carey Mulligan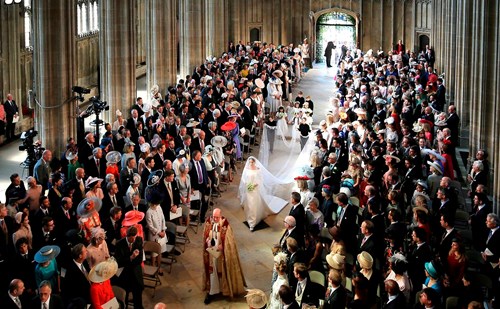 Of course The Middletons and Spencers were among the guests, as well as the cast of Suits, where Meghan famously portrayed the role of Rachel Zane for many years of her career.
As we drew closer to the ceremony, the Royals began their entrance, as we spotted many members of the Royal Family.
The notorious Fergie was the first to arrive, arriving separately from her ex husband and daughters. Princess Beatrice and Eugenie opted for more sensible hats this time round, yet both looked regal in their blue toned dresses.
Once most of the Royal family had made their entrance, Prince Harry and his brother Prince William arrived soon after.
Harry looked dashing in his Household Cavalry uniform, controversially sporting his famous beard.
As Royal tradition goes, the Queen is always the last Royal family member to arrive, and she looked glowing in her Lime Green and Purple Dress.
With there having been speculation over whether Prince Philip's health would prevent him from joining his family, it was a pleasure to see him take this side of his Queen on this day.
Meghan's mum, Doria Ragland, also opted for a lime green outfit; whilst Camilla dressed in a baby pink shade.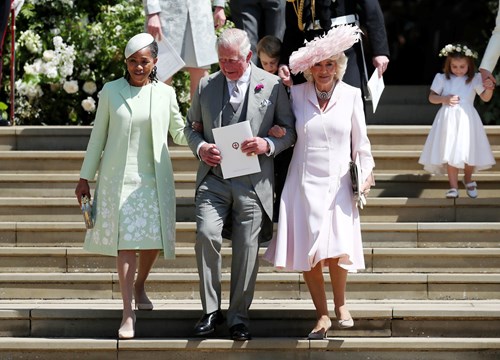 The time came for Meghan to arrive, and she looked absolutely breathtaking!
Looking stunning in her Givenchy dress, designed with a boat neckline and in a pearl white silk, we couldn't help but think the Hollywood actress took to her role of Royal Bride with such elegance and grace.
Her hair was up, and adorned with The Queen Mary Diamond Bandeau Tiara, a true homage to her new family.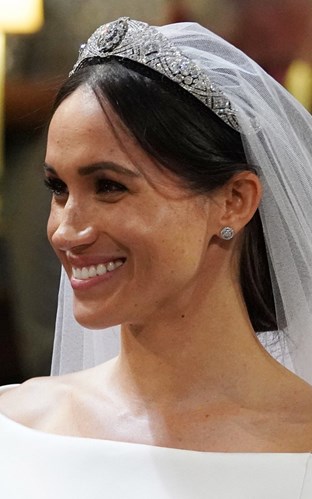 Meghan's veil was 5 metres long, with lace detailing and a silk finish.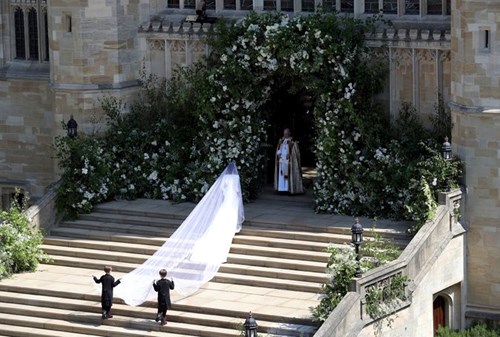 Meghan chose a sparkling Diamond Bracelet and Diamond Earrings for her Jewellery look, choosing to wear no necklace, in order to show off her gowns stunning neckline.
Meghan's wedding ring was made from Welsh Gold from the Clogau Mine, and Harry chose a Platinum band with a textured finish. Harry is the first of his family to wear a Wedding ring as a symbol of his marriage.
Once the ceremony had come to an end, Prince Harry and his new Bride, Her Royal Highness, Duchess of Sussex, left St George's Chapel, and began their carriage ride around the grounds of Windsor Castle.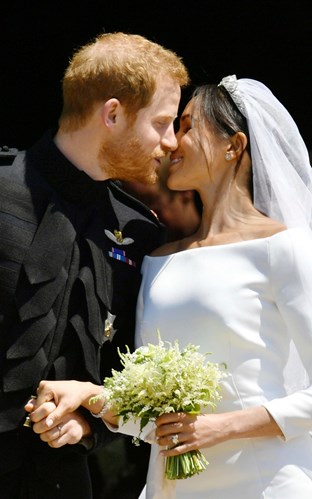 We couldn't be more thrilled for the happy couple, and what a perfect day it was for them!
Congratulations to Harry and Meghan, as they start their new adventure together as Husband and Wife!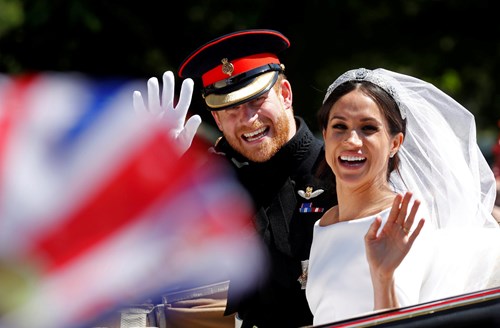 Get Meghan's Wedding day look, with our stunning Round Brilliant Diamond set Bijou Earrings!