Planning an outdoor Summer wedding, and have no idea where to start? If you're unsure of how to be prepared for the weather, and keep your guests entertained, we've listed our top 10 tips for outdoors Summer weddings this year!
You've been dreaming of a beautiful outdoor summer wedding since you can remember. The sun shining bright, the sky ocean blue, and a temperature that's warm enough without making you feel like you're in the Sahara desert.
But when it comes to planning a wedding, there's one thing you can't control. The weather.
Planning a summer wedding in the UK can be risky business. Now that we're nearing the end of July, and with August just around the corner, the hottest months in the UK are also some of the wettest. Whilst you sit there obsessively updating your weather app days before the big day, fear not, as you will not be alone.
Your guests have been planning their outfits and their hair for months too. Constantly looking for reassurance about what shoes to wear and whether they need to bring a light jacket or a raincoat.
Come rain or come sun, keeping your guests entertained and comfortable during any Wedding season is key; and if you're planning a summer outdoor wedding, there's no telling whether you'll be in the middle of a heatwave or the middle of a downpour.


We've come up with a list of 10 Summer wedding tips to make sure your guests will have an amazing time at your wedding, and be fully prepared whatever the weather!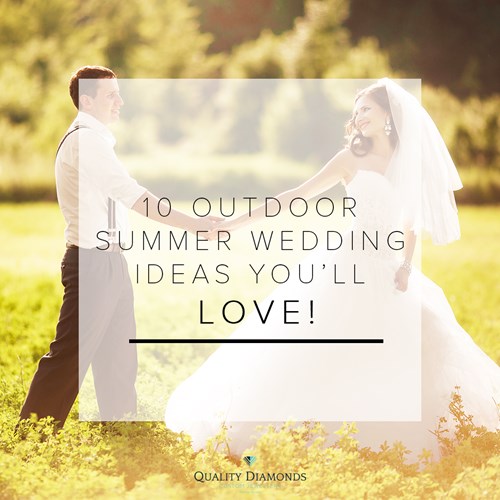 1. Pimp your Prosecco
A deliciously sweet sparkling classic that's perfect for a summer's day, Prosecco has been a wedding favourite for some time. Pimp your Prosecco means adding an abundance of tasty treats to your drink, and the added touch is a fun way for your guests to get involved. Quite often, fruits like blueberries and strawberries are the go to best friend of your Prosecco glass. Whilst we still think they are a yummy addition, why not try something different this summer with things like candy floss or peach sorbet!
2. Sweets table
The pick and mix style sweets table is an ever growing popular trend at weddings. The great thing about them is that it's a perfect idea whatever the time of year! However, there's a few things to keep in mind for your sweet shop when it comes to having an outdoor summer wedding. With the sun (hopefully) shining, the sweet smell of sugary treats may bring some unwanted guests buzzing around the table. We recommend making sure your pick and mix table has lids for your sweet jars, to stop any unwanted visitors. If you're planning on having sweet bags or cups for your guests, we'd recommend keeping them in a draw or a closed container. That way, if it happens to be a little windy that day, there won't be sweet bags trying to fly with the confetti!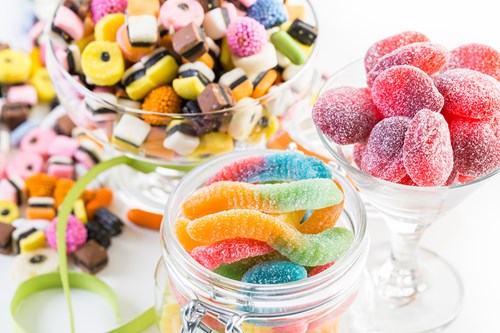 3. Lawn games
If your idea of a summer wedding is in a forest or a field, or the beautiful grounds of a manor house, be sure to have some games set out to entertain your guests. Sometimes waiting around for the next event on the agenda can feel a little long, so having these fun games for your guests to play will ensure they keep their partying spirits, whilst you prepare for the speeches! A few games that we think are great ideas are: giant jenga, giant connect 4, croquet, limbo, or even a homemade giant version of kerplunk!
4. Ice Cream bar
Similar to a sweets table, having an ice cream bar or parlour is a great idea for an outdoor summer wedding. Fingers crossed the weather is gorgeously warm, as an ice cream bar is a great way for your guests to cool themselves down if your wedding day is a scorcher. Experiment with serving up different flavours and varieties, and be sure to have sprinkles and sauces as the finishing touches. Don't forget the cones and cups, and sorbets for those that don't eat Dairy!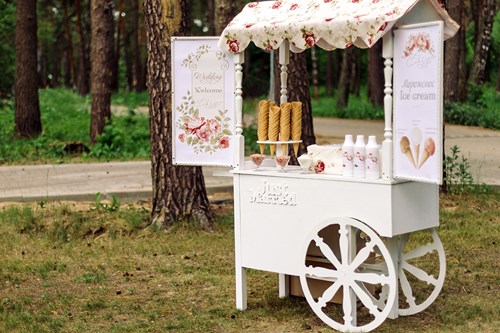 5. Water Bucket
Whilst we hope everyone will be having a wonderful time and getting merry, a bucket with water bottles or a water fountain is a must. If you've picked a day that turns out to be a hot one, you don't want your guests dehydrating, and it's always good to have water around for those that don't drink too.
6. Sunglasses Bucket
This one is a favourite, especially if you've picked a day that sees no clouds in the sky! Don't worry, they don't have to be Sunglasses from top designers; but by having a quirky bucket of sunglasses it will make sure your guests aren't blinded by the sun, or watch you walk down the aisle through squinting eyes. For those that forgot to pack sunglasses, and for those who want to join in on the fun, it's a great way to make sure your guests are comfortable during the day. You can even add a personal touch and have them engraved with your names or the wedding date, then they become a keepsake too!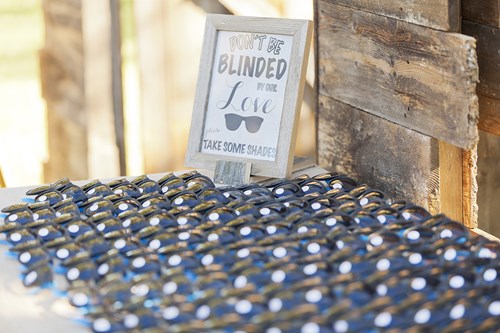 7. Fan Bucket
Keep your guests cool on your wedding day with this great idea. If your wedding is at the height of summer, then a fan bucket will be a perfect addition! Just in case it gets a little too hot for some guests, having a selection of fans will make sure they are able to fan away till their hearts content!
8. Umbrella Bucket
Some say rain is good luck on your wedding day, but we all still secretly pray for a bright dry day. Sometimes the weather might not be on our side, and if the weather is looking set to be rainy for your big day, a great idea is to have Umbrellas handy and ready for those showers. An Umbrella Bucket is a fun way of keeping the rain at bay, and making sure none of your guests get soaked!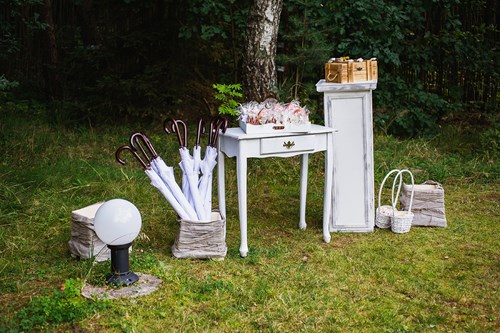 9. Blankets
This tip is a great idea for the end of the evening; when the sun has set and you're all trying to get cosy around the fire. Having a stash of Blankets ready is the perfect way to keep your guests feeling toasty as the night goes on. It's also a great idea in case the weather isn't as warm in the day as you'd hoped for, so guests can quickly wrap themselves up in a blanket and carry on with the celebrations!
10. Flipflops Bucket
Finally, after a long day of wearing heels or smart shoes, it's not just the bride's feet that will be feeling the pain. Why not have a Flip-flop Bucket on hand ready for all your guests to wear. This way there's no need to worry about heels getting stuck in the grass, and having a flip flop bucket is a great way to make sure your guests keep dancing the night away. So once the ceremony and pictures are done, make sure you let yourself and your guests slip into something more comfortable!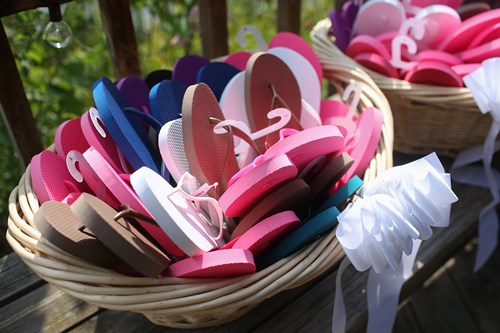 Once you're feeling fully prepared to keep your guests smiling come rain or come sunshine, all that's left to do is enjoy the party and have an amazing Summer Wedding!