With over 150,000 diamonds to choose from, and a gorgeous hand picked collection of styles, Quality Diamonds provides YOU with the tools to design your own engagement ring online.
When starting the process of designing their own engagement ring, most people have an idea of what they want the finished piece to look like. Whether they have taken inspiration from a Celebrity trend or are creating a childhood dream; those people designing their own engagement rings usually know what colour metal and what shape diamond are going to take centre stage.
Whether you are planning a surprise, or working together to find the perfect engagement ring; our easy Step by Step website will leave you fully in control of creating your dream engagement ring.
HOW IT WORKS
Design your own Engagement Ring online following a few easy steps..
Step 1 : CHOOSE YOUR SETTING
To help narrow down your selection, we've created several drop down options.
Metal Type

Ring Style

Type (solitaire, or with side stones)

Diamond Shape 

It will then show a glittering list of rings that match your selection. Hover over each image to view the ring from different angles.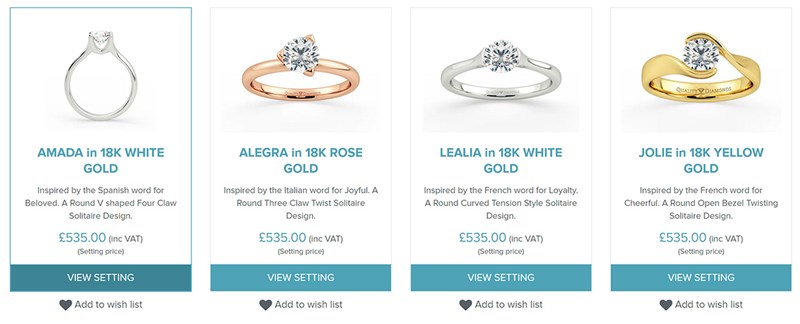 If you would like to see more details of any specific ring, just click on the image or "VIEW SETTING" to open the full ring setting information.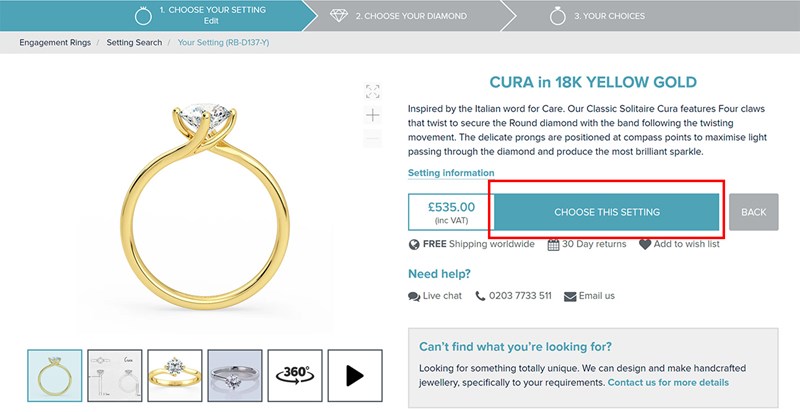 When you have found the design you love, click "CHOOSE THIS SETTING" and start Step 2
Step 2 : CHOOSE YOUR DIAMOND
With over 150,000 diamonds on our system, we've had to create a powerful search facility to help you find your perfect stone. The easy to use sliding selectors help you specify the parameters of your search. As every diamond is unique, we have a whole section of our website dedicated to helping you understand them and how specific characteristics can impact on your budget. Click on the (i) to find out more about each attribute of a diamond.

If you are a bit more knowledgeable and would like to filter by more diamond attributes, click on "Advanced Search" 
Once the website returns your search results, they will be presented in a list which you can filter by price or specific characteristic.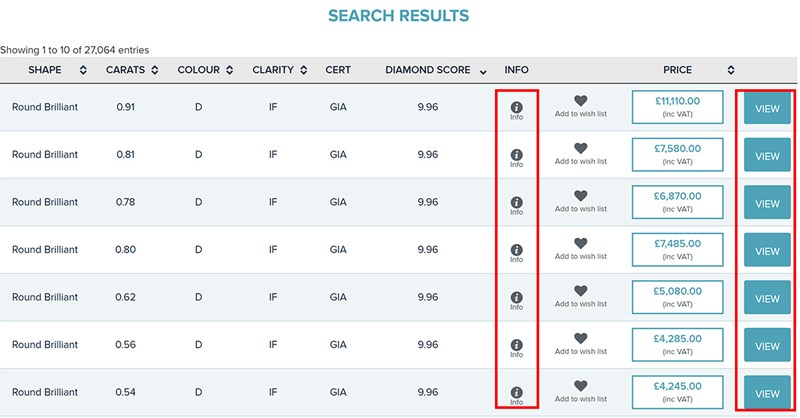 You can click on info (i) to see more details of the diamonds, or "VIEW" to see complete details including images and the certificate.
As you can see, that list could still be pretty long. So we have created two very special tools.  The first is DiamondScore. DiamondScore is like having your very own Diamonds Expert in your pocket. In short it's a clever (geeky) algorithm that marks a diamond's characteristics out of 10. The closer to 10 the better the diamond.  AND the great news is that the list of diamonds that meet your criteria can be ordered by their DiamondScore.
BUT how exactly do you get the very best value for money?
This is the challenge we issued to our "Techies".  They have created a way for you to quickly see – at a glance – the best we have to offer! Or the biggest – if that's what you're after? Or the cheapest?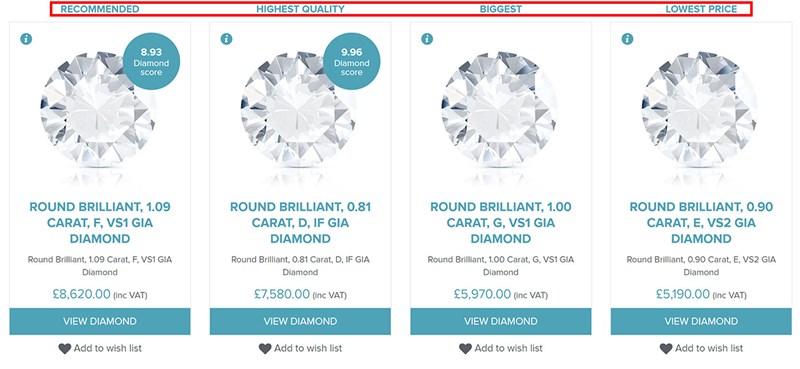 We're not only showing you every diamond that matches your engagement ring search – but also the ones you're most likely to want.
Let's take a closer look:
The 'Lowest Price' and 'Biggest' diamonds are exactly what you might expect them to be – as long as you bear in mind that 'Biggest' refers to actual dimensions, not carat weight.
The 'Highest Quality' diamond is also self-explanatory. It may not be the biggest; it almost certainly isn't the cheapest. But it is the most beautiful, most sparkling, most breathtaking diamond that matches your search. (For this reason, it will have the highest DiamondScore.)
You could stop there, but we'd recommend you didn't. Because even the 'Highest Quality' diamond isn't always the diamond we'd encourage to you buy. We want you to get the best value – the biggest, most beautiful diamond at the lowest price - and that is often a lot harder to spot in the crowd.
Which brings us to the rule-breaking 'Recommended' diamond. You might notice that this diamond doesn't completely match your search criteria. Perhaps it's a little bigger than you were looking for. Or maybe it's just a fraction outside your price range. Forgive it these minor transgressions – it's truly worth it.  
In a nutshell, the 'Recommended' diamond is not the biggest, nor the best quality, nor the lowest price. Instead, it's the ideal combination of all three. It gives you a diamond to consider that you may never have found on your own.
Once you have picked your diamond, you can view the certificate and any available images, then "CHOOSE THIS DIAMOND".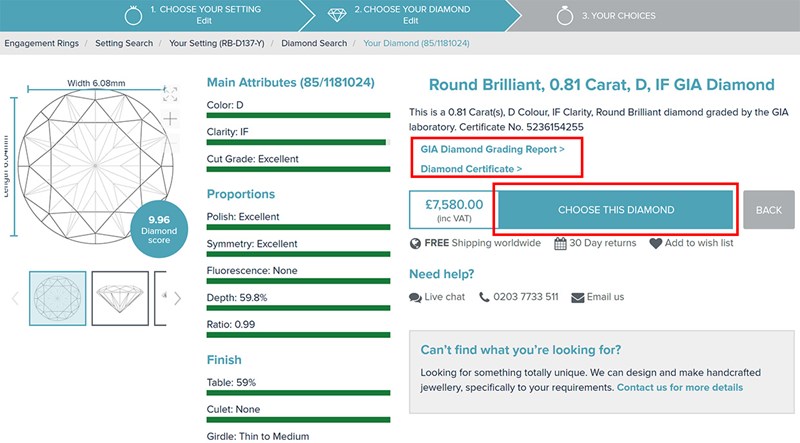 ...and that's it, you've now built your diamond engagement ring, which is unique to you. All that is left now, is to choose your ring size and "ADD TO BASKET". Don't worry if you don't know the ring size, just leave it set to "NOT KNOWN" and we will make it in a standard size, which you can have resized (for free) once you know the correct size.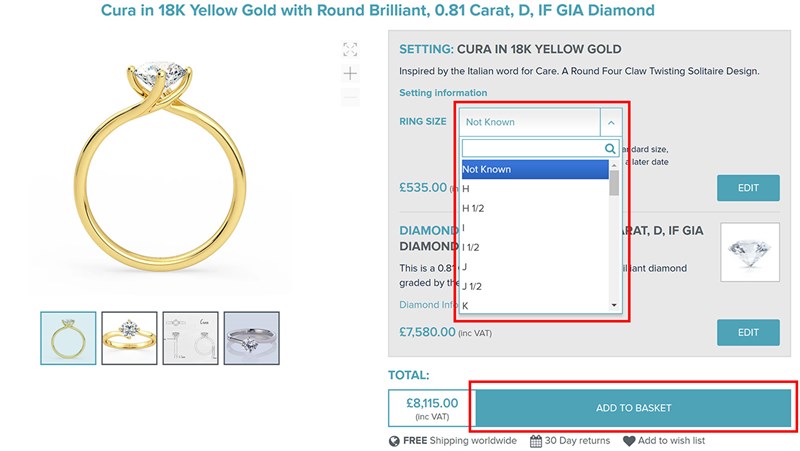 Then leave it to our skilled Master Craftsmen to bring the engagement ring you designed to life.
AND, if you didn't find exactly what you want in our Collection, we have an amazing team of jewellery designers who will work with you, no matter where your inspiration comes from help you design your own bespoke engagement ring from scratch. You can find more detail here.
I'm ready, Lets DESIGN MY RING