The most wonderful time of the year, the busiest time of the year, and according to recent surveys, the most romantic time of the year to propose!
Christmas is a magical and special time for those that love it, and has been voted as one of the most favoured and popular times to propose. With Christmas Eve being the chosen day, many people love the idea of a Winter proposal.
We've come up with our top 5 favourite festive proposal ideas, to give you a head start in your proposal plans this season.
Christmas Tree Proposal.
This one is one of our favourites, and can be done in many different ways. First things first, you'll need a 'Will you Marry me?' bauble. Many can be found online, and some can even be personalised down to the name and the colour. Next, keep it hidden and don't put it on the tree until Christmas Eve, to prevent her finding it before the big day. This is the part where your creativity skills come into play.
There are a few ways you can get her to notice the bauble, ask her to choose her favourite bauble, and if she doesn't see it, pick that one as your own. Or even point it out to her and ask her to go read what it says. When she realises and turns around, have the ring ready and be down on one knee, and let your proposal commence!
Another way this can be done, is a proposal when decorating the tree. Wait until the tree is decorated, and then ask her to put this final bauble on. When she realises what it says, you'll already be down on one knee with the ring in hand.
If you can't get a Will you Marry me Bauble, then why not take her favourite Bauble, and either tie the ring to the very top, or a note with the all important question.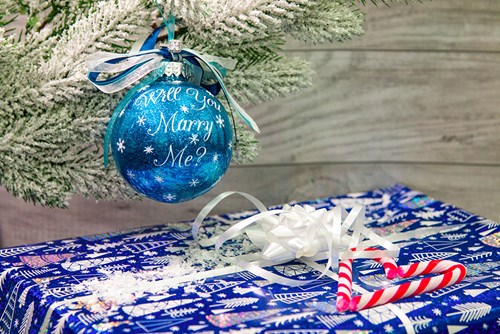 Propose on Boxing day.
This one can be done however you like. In the morning when she wakes up, at the end of the day before she falls asleep, or even spontaneously when she least expects it! After all the excitement of Christmas the day before, she'll have probably lost all hope that you were going to propose this year, having thought that Christmas would have been the perfect occasion. So surprise her and propose on Boxing day, when the excitement is over and the new excitement can begin.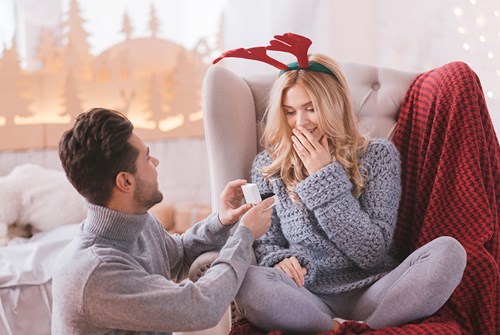 Treasure Hunt.
This one can be done any time of year, but can be an extra special present amongst all the other gifts. Have the last present she opens be a clue to another clue, and send her on a treasure hunt of gifts until she reaches the end. Whether you have this treasure hunt stay at home, or take you outdoors, or even across the country! Keep her guessing until the end, and when she reads the last clue, be ready on one knee for the proposal of her dreams.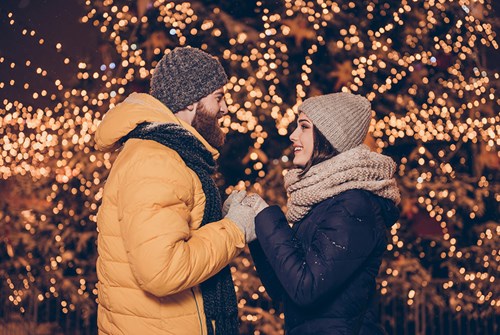 Forgotten present under the tree.
This one involves some sneaky skills and perfect timing. On Christmas morning when you're opening your presents together, wait until all the presents are opened and there's nothing left to unwrap. Then, without her knowledge, pop the ring in it's box wrapped up under the tree. Notice the present and tell her there must be one they forgot, and tell her to unwrap it. As she unwraps it, and when she realises what it is, be ready beside her to ask her that all important question.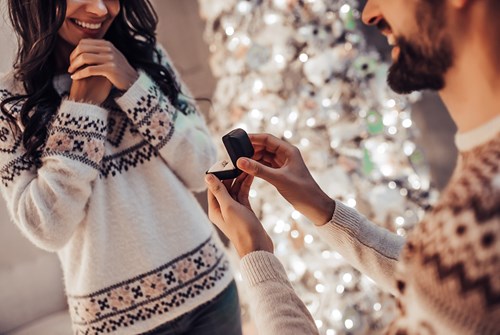 Outdoors on a Winter Walk.
This one can be done anytime in the winter season, but would have that extra festive touch if done on either Christmas Eve or Christmas day. First things first, invite her on a winter walk. Whether the snow has fallen or not, it's bound to be cold, so wrap up warm in woolly's and coats, and head out for a trek around a scenic area. Surprise her with a distraction, and when she least expects it get ready on one knee, and when she turns around you'll be in prime position for an all romantic winter proposal.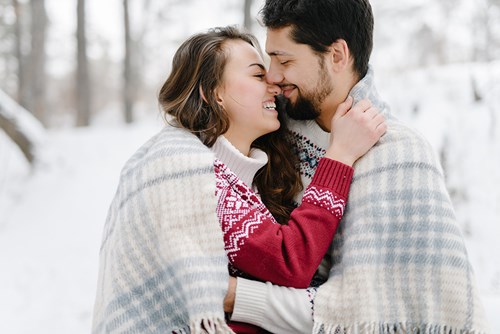 These are just 5 ideas for a beautiful Christmas Proposal, and there are many other ways that are perfectly romantic and heartfelt!
Don't forget the main ingredient for a gorgeous Christmas proposal… a stunning Engagement ring!
Shop our Engagement rings here, and say yes to the start of the rest of your life.