Unsure of where to start when it comes to choosing your Wedding ring? We're here to give you a helping hand!
The planning is underway, the list is getting shorter, but you still haven't thought about what Wedding ring to go for. The choice can seem a little overwhelming when there's many different styles, choosing something you will ultimately be wearing for the rest of your life is a big decision. (Imagine how your fiance must have felt!)
When it comes to shopping for your ring, you'll hear about and read about lots of different styles. Channel set, micro-grain, claw set, pavé set, court shape.. Don't let it overwhelm you!
We won't deny it, there are many different settings of Diamonds to think about...but why not start off easy for yourself. Diamond set, or plain?
To help you make your decision, we've listed our 3 pros and cons of choosing Diamond set bands, and Plain wedding rings!
Pros
Going for a subtle sparkle will compliment your Engagement ring, a gorgeous frosting sat gracefully around it.
If there were to ever be an occasion where it was only suitable to wear your Wedding band, having a Diamond set band means you'll still get that sparkle you love.
If an Eternity ring isn't something in the foreseeable future, then a Diamond set Wedding band is a lovely way to incorporate both meanings in one.
Cons
If you go for something too sparkly and overpowering, it could take away the attention from your Engagement ring.
If you want to go for an Eternity ring in the future, 2 Diamond set bands might not work as well with one another, especially if they aren't the same style/design.
Smaller set Diamonds can attract residue build up underneath, and if not cleaned regularly can loosen and even loose stones.
Here's an example of one of our Diamond set Wedding bands.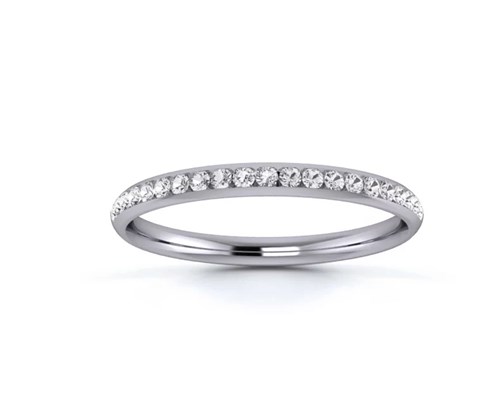 A classic 2mm wide platinum court shaped light weight wedding ring with channel set round brilliant cut diamonds (0.01 carats each) set around half of the band.
To shop our full collection, follow the link below.
Pros
Going for a plain band means there's no attention being taken away from your beautiful Engagement ring.
A plain band looks lovely against a solitaire Engagement ring with plain shoulders.
If your job requires you not to wear Diamonds, then a plain Wedding band is a great idea. Even if you can't wear your Engagement ring, you'll still be able to wear you Wedding band to work.
Cons
If there's ever an occasion where you are not going to be wearing your Engagement ring, a plain Wedding band may not have the same desired affect as your sparkling Diamond.
A plain band may appear to look worn quicker, as much more metal is on show compared to a Diamond set band.
A thicker plain band might look chunky paired with your Engagement ring, creating an overall heavy look.
Here's an example of one of our Plain Wedding bands.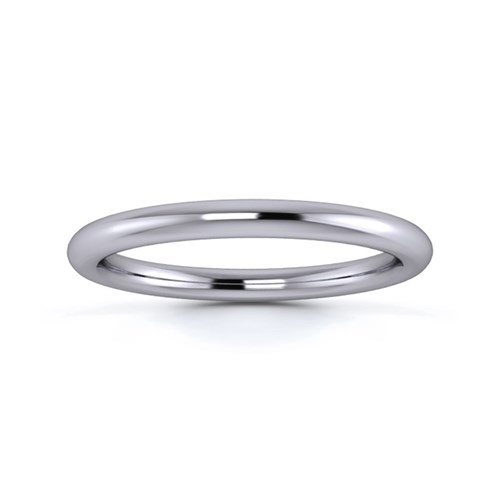 A classic 2mm slight court Wedding ring in Platinum.
To shop our full collection, follow the link below.
If you're finding yourself relating to the cons, then maybe that choice isn't the right style for you. However, if the pros outweigh them, then go for what matters more!
If you're still unsure, then the best thing is to try on some different styles. You can arrange an appointment to visit us in our Showrooms, and our expert advisers will be on hand to guide you through the process.
At the end of the day, the decision is up to you.
Serving as a constant reminder of your love for one another, you want the ring to be as special and beautiful as your wedding day!