When it comes to choosing the metal for your rings, one of the first choices you'll make will be on the colour; this can be the traditional choice of Yellow, the shining look of White, or the newer blush Rose. Choosing either Yellow or Rose makes life a little easier, as Gold is the only metal option. However, if you're opting for a White band, then it's not just Gold you have to contend with.
Platinum and Palladium are 2 popular White metal choices for Engagement and Wedding rings, and are known for their durability and superiority over White Gold.
But what's so great about them?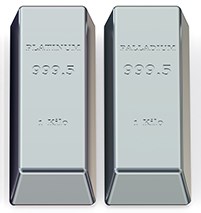 Platinum.
Platinum was first discovered in South America, in 1735, and is one of the rarest elements and metals on earth.
With it's remarkable resistance to corrosion, it is considered to be a noble metal, and is known for its resilience and durability.
As a hypoallergenic metal, it's rarity and lustrous colour makes it an attractive choice.
Read more about the benefits and Advantages of Platinum here.
Palladium.
Palladium was first discovered in 1802, yet it's debut as a precious metal wasn't until 1939. Being known as one of the newest metals in Jewellery, Palladium was only officially hallmarked in 2010.
Having similar benefits and properties to Platinum, Palladium stands to be around 45% less expensive than the noble metal; meaning it's a great alternative for someone who loves the idea of Platinum, but on a smaller budget.
Read more about the benefits and advantages and Palladium here.
So when it comes to choosing between these metals, remember to ask yourself what's important to you. Whether it's rarity and investment value, or durability and affordability, both metals are fantastic choices for rings.
All of our rings, be it Engagement or Wedding, can be made in both metals, and you can find individual setting prices on our 'create your ring' sections. Simple filter the metal choices, to search for your chosen metal!
Create my Engagement Ring                                                        Create my Wedding Ring